A European short sea Ro-Ro specialist operator is poised to welcome the arrival of the fourth 5400 lane metre vessel into its fleet.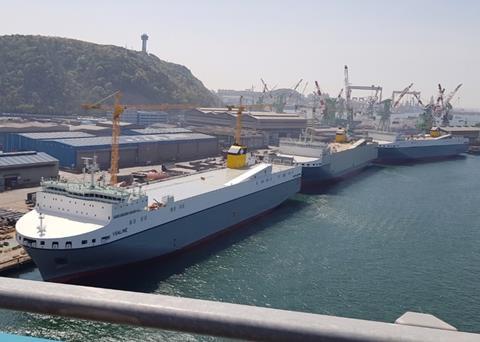 MV Hermione is operator CLdN's sixth vessel added since the new build strategy was announced in 2016, with a target to introduce twelve new vessels in subsequent years overall. In addition to this CLdN have on 10th July 2019 confirmed a further two orders for the same class of vessel, with the enhanced modification of the pair having MAN main engines powered by liquefied natural gas (LNG) which will contribute to a further reduction of its fleet emissions. Sailing on LNG reduces the C02 emissions by 24%, N0X by 30%, particles by 90% and S0X by nearly 100% compared to sailing with the conventional marine gasoil (MGO).
The vessels, built at Hyundai Mipo Dockyard, will have a 320 cubic metre capacity C type LNG fuel storage tank located on the main deck. The LNG supply chain is currently being set up in Rotterdam and Zeebrugge where the ships will bunker by barge or truck on a regular basis.
With the latest arrival, not only have CLdN increased fleet composition, but also will have considerably grown available capacity by appoximately 70%.
CLdN's first new builds to be delivered were the two 8000 lane metre Ro-Ro vessels, Celine and Delphine, described as 'Game Changers' at the time and have proven to be a valuable addition to the CLdN fleet since their introduction. The two 8000 lane metre vessels were joined by four new 5400 lane metre Ro-Ros this year.
European short Sea Ro-Ro specialist CLdN Ro-Ro SA, operates 30 modern Ro-Ro vessels, offering in excess of 130 sailings per week between the ports of Zeebrugge, Rotterdam, London, Killingholme, Dublin, Gothenburg, Esbjerg, Santander and Porto.
CLdN's core services have traditionally been the Continent / UK, which commenced in December 1974, and the company has steadily expanded its geographical presence into new markets, including Ireland, Sweden, Denmark, Portugal and Spain in recent years.
CLdN currently handles on an annual basis, in excess of 1 million cargo units and 1 million new cars and vans and the new vessels will allow current trades to expand and new routes to be developed.
By Jake Frith