While modern technology can help you make some "very clever decisions", said Dutch Work Boats MD and founder Rob Voskuil, it is definitely a mixed blessing.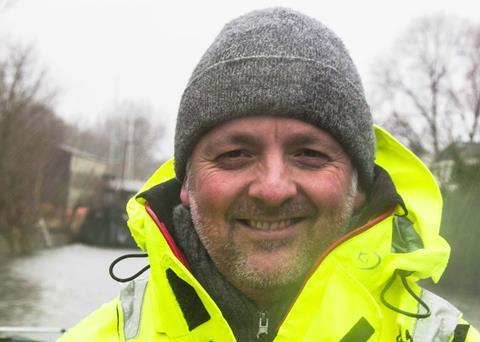 Lightweight craft, like the company's very first design, a Fast Surveyboat 7.50 for Van Oord, require CAD-aided, detailed development. Even with the equipment installed Sonans weighs only around 2,700kg allowing it to get into every corner of the Netherlands by road within two-and-a-half hours.
"There were a number of proposals from very well established yards but to be honest I think we managed to get the contract because as a new company we had eagerness and flexibility... and the ability to go along with Van Oord's very specific requirements," said Mr Voskuil. "It gave us that early lift-off – we weren't just sitting in our new office wondering where to start." From this original 7.5 model DWB developed a whole range of speciality survey boats – still the company's "best selling product line" he added.
Innovation has also been applied to DWB's range of HDPE boats which push the idea beyond the usual RIBs that, with their rigid tubes, "tend to hit the waves hard and bounce especially when turning... the ride's often quite harsh on both equipment and crew". The result of the focus was a fully-planing hull form that "gives a softer ride - while still having a 40kn to 45kn top speed".
But according to Rob Voskuil, modern communications are "clever tech" with a distinctly double edge. On one hand, it allows good cooperation with partner and US yard Armstrong Marine and has helped the yard extend its reach; the latest 9m survey vessel is, he said, destined for Azerbaijan for work on the Caspian Sea.
On the other hand Mr Voskuil – a born communicator - sees the 'internet age' as having distinct downsides.
"You can send an enquiry now with a click of a button," he said. But quantity doesn't guarantee 'quality'. While the web should mean more choice, he said: "I notice the loss of personal contact... without that, it's a challenge to know what, in your inbox, is a serious enquiry."
It's a two-way problem. "We've got to a point where I've seen inquirers sending out dozens of emails, thinking of that being the way to hit the most affordable and best boat for their needs." However, this approach doesn't get to the bottom of what's required he explained: "A workboat is never just a commodity; you have to entrust your crew, your work and your reputation to it – future owners need to commit time and resources to some detailed communication with us before taking the next step." It equally applies to relationships with suppliers "who can get stressed" with the splatter-gun effect of emails.
Away from the laptop, there are moments of pure pride: there's nothing like "being driven on the boat you've designed by an experienced test pilot who's taking the vessel to its limits", he said. "Even if you come back sweaty and slightly green."
By Stevie Knight