Representatives from Spanish shipbuilders, Rodman, and Trasmapi, which operates ferries between Ibiza and Formentera, have recently attended the delivery ceremony for a newly built high-speed catamaran.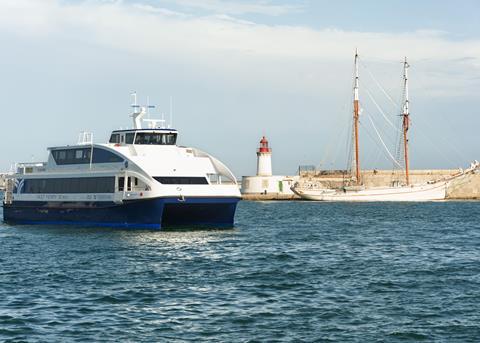 Rodman has designed, built and delivered catamarans, not only for passenger transport but also for other sectors such as hydrographic, research or offshore windmill support.
In 2015, Rodman and Trasmapi signed the contract for the design and manufacture of a pioneering vessel - a 28.40m Rodman 90 with a 300 passenger capacity.
The Espalmador Jet was designed and built to Trasmapi's specification by the Rodman technical team under the HSC 2000 Code for high speed crafts, which enables the building of glass-reinforced plastic (GRP) vessels for more than 200 passengers with no speed limit.
Following the ceremony guests embarked on the catamaran at Marina Ibiza and sailed to Formentera, reaching 29 knots at maximum speed. When in regular service the Espalmador Jet will complete the crossing in less than half an hour.
The new Rodman 90 will be certified by Merchant Marine Authorities and Lloyd's Register Classification Society and fulfils IMO Tier II regulation.
Main technical features are as follows:
Length O.A.: 28.40m
Length of hull: 27.50m
Beam: 9.00m
Draught: 1.45m
Depth: 3.40m
Maximum Power: 2 x 1.040kW
Maximum Speed: 27 knots
Displacement Full Load: 110 tonnes
Fuel Oil Capacity: 6,250 litre
Fresh Water Capacity: 2 tanks x 335 litre
Passengers: 300
Propulsion: 2 MITSUBISHI engines 2 x S1 2R-(Z3) MPTA
In terms of navigation and communication equipment the Rodman 90 carries a gyro compass, Doppler log, sounder, two radars, GPS navigator, automatic pilot, rudder indicator, track data recorder, automatic identification system (AIS), AIS transponder, VHF radiotelephone, NAVTEX receiver, two EPIRBs, three portable VHF radiotelephones, VHF transceiver, bridge navigational watch alarm system and a public address system.
The Espalmador Jet replaces the former catamaran of the same name, built in 1998 and originally designed to cover the Bergen-Stavanger route in Norway. The original has been renamed Krilo Star and now covers the Split-Dubrovnik route in Croatia.
By Rebecca Strong