Rolls-Royce has delivered its 1000th azimuth thruster to Damen Shipyards marking a milestone in a 30-year relationship with notable references in what has been a work in progress story set to develop further.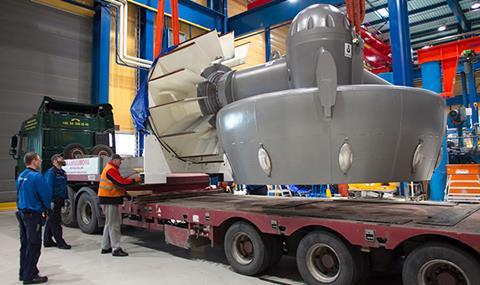 The 1000th and 1001st examples are US 255FP azimuth thrusters, each with a power of 2,525kW for a Damen ASD Tug 2913 under construction at the Dutch shipbuilder's Romanian facility.
The first Damen ASD tug with Rolls-Royce US thrusters was delivered in 1993 but the company's relationship with Damen goes back much further. In 1983, before its acquisition by Rolls-Royce, Aquamaster supplied the first retractable thruster for the tug Damen Dragon Fly, specially built for the Easter Scheldt hydraulic engineering project. After several changes of ownership including as the Elizabeth for LH Visser & Zn, this particular tug is now listed as the Indian-owned Coromondel Supporter IV. The Damen ASD 2810 design shiphandling tug has been fitted with more than 420 Rolls-Royce thrusters since its introduction in 2002.
Aila Lainio, Rolls-Royce, marine area sales manager commented: "You can say that Damen has become part of our life now. Rauma has produced a wide range of azimuth thrusters for Damen's various tug designs. The ASD design and the Rolls-Royce US-type azimuth thrusters make a unique combination."
"We have worked closely in cooperation with Damen over the years to develop the optimum azimuth thruster range for tugs. We have a very creative and talented team in Rauma. Whenever Damen presents new requirements, we accept the challenge of developing solutions that allow us to continue being Damen's first choice for propulsion equipment. We continually invest in research and development to optimise thruster performance and environmental efficiency. Ultimately we endeavour to design the best propulsion solution for all of our customers."
Hinting at how Rolls-Royce is firming up its position in this specialist area of tug propulsion, Ronald Lindeman, Rolls-Royce, marine head of sales, central Europe West, said: "We are constantly developing our azimuth thrusters to reach the customers' expectations. Rolls-Royce is investing £44 million in our production plant in Rauma to further strengthen our position as the leading supplier of azimuth thrusters. The work to transform the facility in Finland is underway and is due for completion in 2020."
The investment by Rolls-Royce at Rauma (Finland) is intended to consolidate its assembly and test capability and includes transfer of the two processes from two existing locations along with a 'significant investment in new equipment.' Thrusters from the facility are not restricted to tugs however with examples supplied to a range of typically offshore oil and gas industry vessels, two notable references being the Finnish icebreaker Fennica with thrusters weighing up to 190t and the twin-hulled decommissioning/pipelaying vessel Pioneering Spirit.
By Peter Barker