MTU gas engines are to power the world's first LNG-hybrid harbour tug for operation in Singapore, part of a 12-vessel order to be operated by Jurong Marine Services.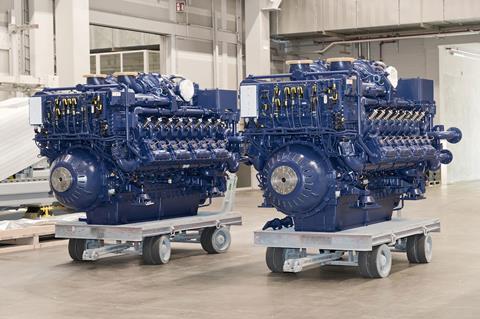 The push for greener more efficient shiphandling tug operations is definitely on, developments driven by the desire for cost savings and cleaner communities close to ports along with improving efficiencies from operating profiles where engines spend long periods running at low loads but with the ability to deploy maximum power at short notice.
These issues will be addressed in this example with flexibility from different modes switching between LNG and battery power with two MTU 16V 4000 M55RN gas engines at the heart of the installation requiring no exhaust gas aftertreatment and emitting no sulphur oxide with particulate emissions 'below the verification limit'.
The engines produce 2,984kW in total at 1,600rpm and with multipoint fuel injection, dynamic engine control and enhanced turbocharging provide dynamic acceleration and high power output. Reduced emissions considerably below current IMO III limits are achieved without the need for exhaust aftertreatment, Rolls-Royce stating 'the new gas engines are able to deliver performance comparable to a high-speed diesel engine'.
The 65tbp, ABS-classed tug, under construction at Sembcorp Marine is designed by LMG Marin (Norway) – part of the Sembcorp Marine group and the vessel is described as the first LNG-hybrid tug to be powered by MTU gas engines worldwide with completion estimated for the later part of 2021.
This reference is not the first such for Rolls-Royce however, the new MTU gas engines are already installed in ferries operated by Dutch shipping company Rederij Doeksen in the specially protected Wadden Sea, declared a World Heritage Site by UNESCO. Meanwhile, a Lake Constance ferry operated by Stadtwerke Konstanz will also start operating in 2021 with the new MTU gas engines.
Jurong Marine Services is a wholly owned subsidiary of Sembcorp Marine and as mentioned this reference is the first of 12 tugs Sembcorp Marine plans to design and build between now and 2025 to replace existing diesel-powered tonnage. Sembcorp themselves are a significant global engineering company based in Singapore with supporting shipyards throughout the Far East along with one in Brazil. Its European interests include Gravifloat AS in Norway and Sembmarine SLP in Lowestoft, Suffolk UK.
By Peter Barker