The UK's Cammell Laird shipyard has chosen a Rolls-Royce design for the UK's future polar research ship, which, when built, will be one of the most advanced scientific maritime vessels ever constructed.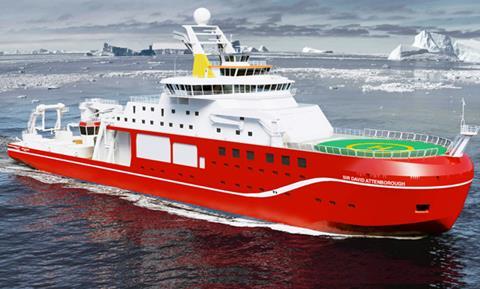 Rolls-Royce will also supply machinery and equipment for the 128m long RSS Sir David Attenborough, named after the famous British naturalist, in a deal worth £30 million.
Jørn Heltne, Rolls-Royce, Senior Vice President for Sales in Ship Design & Systems, said: "A key part of our extensive delivery for Cammell Laird included in this vessel will be the automation and control systems, including our Dynamic Positioning system and the award winning Unified Bridge."
"This will provide the crew with the most advanced and innovative working conditions and operator tools on a vessel bridge today."
Rolls-Royce will provide Cammell Laird with the diesel electric propulsion system powered by the new Bergen B33:45 engines (two nine cylinder and two six cylinder engines) and equipped with two Rolls-Royce 4.5m diameter Rolls-Royce Controllable Pitch Propellers (CPP).
The powerful, efficient and compact engines and strong propellers will be able to push the vessel through approximately one metre thick level ice with extremely low underwater radiated noise, avoiding interference with survey equipment or disturbing marine mammals and fish shoals.
In addition, Rolls-Royce deck handling systems will cater for a wide range of tasks including supporting scientific equipment for subsea acoustic survey equipment using up to 12,000m of wire, or deploying equipment over the side or through a moonpool to collect samples at depths of up to 9,000m.
The ship's purpose, when it enters service in 2019, will be to carry out oceanographic and other scientific work in both the Antarctic and Arctic, conducted by the British Antarctic Survey (BAS).
Readers may better know this vessel as the one that was nearly christened Boaty McBoatface in a public naming competition. Although the name Boaty McBoatface was scrapped for the vessel, they will use the name for the manned submersible onboard as a nod to popular opinion.
By Anne-Marie Causer