The German Baltic port of Rostock is hoping for a substantial boost in cargo handling from planned approach channel deepening expected to be approved soon, writes Tom Todd.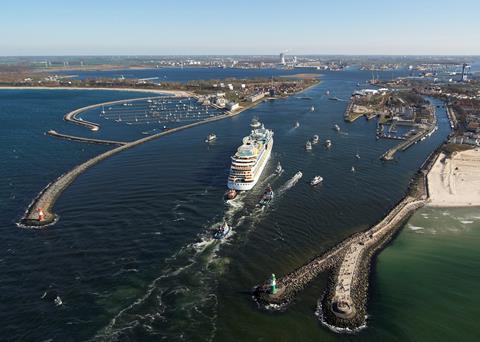 The project to deepen Rostock's 15kms long Seekanal approach fairway from the Baltic Sea to the terminals and berths of the port's main Überseehafen (Overseas Port) from 14.5m to 16.5m. It was last deepened in 1999. Responsible is the German Government through its national Waterways and Shipping Administration (WSV).
Following public approval, the project is expected to start in 2021. A 2014 estimate put the cost at about €100 million but some reports say that is now expected to be higher. Some 5.6 million m3 of seabed will be dredged.
The job is expected to be finished in two and half years rather than the four years originally tipped and the WSV has acknowledged it will be inconvenient for people along the canal because dredging vibrations could cause some damage to buildings.
The deepening to 16.5m will however mean safe port access for bigger oil tankers and bulkers drawing up to15m. WSV representative Holger Brydda said: "That would guarantee (Rostock's) ability to compete in future with other ports in the Baltic. Thousands of jobs are at stake", he declared.
Rostock Port spokesman Jörg Litschka told Maritime Journal that only ships drawing max 13m can currently berth in the Überseehafen. He reported however that work in the port itself, parallel to approach channel deepening, is underway to improve facility water depths to 16.5m and prepare terminals for bigger ships drawing up to 15m.
One of the latest projects is the ongoing renewal and expansion of the Überseehafen bulk handling facility Berth 23. Rostock Port Construction Project Head Dirk Warning told Maritime Journal 130,000m3 were being dredged at Berth 23 between December this year and April next.
Investment this year by Rostock in its handling facilities is expected to be a record at some €40 million. That compares with an €18 million investment in 2018 when many big construction projects were launched, among them the Berth 23 development. All are designed to increase port attractiveness, handling efficiency and thus business. The Überseehafen handled 25.6 million tons in 2018 with ferry and RoRo trade continuing to spearhead port growth.