The German Baltic port city of Rostock has ordered its first electro-solar passenger ferry but the signs are that it will not herald a general switch to electric commuter shipping just yet, writes Tom Todd.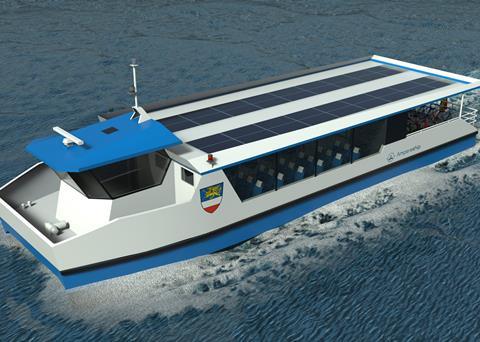 The 21m long and 6.6m wide catamaran ferry is being built at ship and steel construction specialist Ostseestaal in Stralsund, further east near the Polish border, on a design by sister company Ampereship.
It is the first of its kind for Rostock but the concern has built ten electro-solar boats for a variety of customers over the years. They include the Sankta Maria 11, billed as the world's first fully-electric inland car-passenger ferry now serving on the Mosel.
The keel for Rostock's newbuild, owned by the city but being operated by Reederei Antaris, is being laid in October. It will enter service about mid 2021 between Gehlsdorf and Kabutzenhof in Rostock's Stadthafen on the Warnow River, inland from Rostock port.
The ferry, being built on an aluminium hull, will be fully electric and emission-free, saving up to 36,000 litres of diesel and a billed 95 tons of CO2 a year, officials said. Its two 45kW, 360 degree rotatable rudder propellers will get their power from high-voltage 252kWh Lithium batteries, charged overnight, and from 36 solar panels of total 10.8kWp on the ship's roof. Top speed is given as14 kms/h although only a service speed of 7.5kms/h is required for the half kilometre journey. It will carry 80 passengers and 15 bicycles.
City spokesman Ulrich Kunze told Maritime Journal further technical details would be available by September at the latest and once newbuild project planning had been completed.
Kunze added that no further electric ferries were currently planned by the city. Leading local passenger ferry operator Thomas Schütt, asked if the newbuild heralded an early general switch to electric ship operation for his company, was quoted as saying: "Not today, nor tomorrow and not even in the next one to two years. We have too many other problems at the moment".
However, Rostock's Environment Senator Holger Matthäus was more optimistic. "What we are doing with this new ferry is first-rate. We are blazing a trail on the Baltic coast", he said. Another official described the new ship order as "a quantum leap".