A new type of catamaran passenger vessel is nearing completion at a Caribbean shipyard that is aimed at offering greater passenger comfort and better fuel economy that conventional catamarans.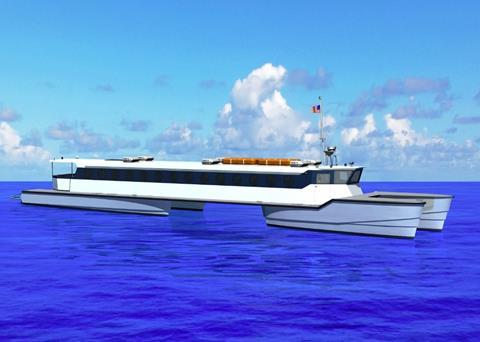 Called the Tandem Cat this new design floats on four hulls, two forward and two aft and it is the brain child of ferry operator Warren Mosler who plans to operate the vessel on a Caribbean route but if this technology works then it could be a viable alternative for many Northern European operations.
The design has been developed by Mosler and Gold Coast Yachts who are building the vessel. Gold Coast has a lot of experience in building multi-hull designs and has pioneered several new wave-piercing catamaran concepts. One of these designs based on long thin hulls has operated for over ½ million miles on passenger service in the lively seas of the Caribbean. Some funding for the development work come from US authorities because of the promise of greater efficiency and fuel savings.
With a hull located at each corner of the main passenger compartment designer Roger Hatfield is convinced that the Tandem Cat will provide a more stable ride than a conventional catamaran. The wetted surface will also be reduced and this is what should improve the fuel consumption. Construction is in carbon based composites in which Gold Coast Yachts specialises and in completed form the displacement should be around 13,000 kgs. which will rise to 19,262 kgs in full load condition.
The overall length of the Tandem Cat is 31.45 metres and it has a beam of 5.33 metres. The prototype has a low profile and the cabin is designed for just 52 passengers but this can be increased to 92 with alternative seating and superstructure arrangements. Included in the layout are a pair of toilets and a baggage compartment and the cabin is fully air-conditioned. The power comes from two 380 hp Cummins QSB 6.7 litre diesels and these are coupled to Konrad stern drives.
The forecast performance is for a top speed of 24 knots which will equate to a cruising speed of 20 knots. Fuel is carried in two 250 US gall. tanks and the water capacity is 55 US galls. Two 11.5 kW Onan generators will supply the electrical power and the safety equipment on board will meet the requirements of the US Coast Guard and the vessel design concept has also received Coast Guard approval.
The Tandem Cat has been designed from the outset to operate on long, rough ferry routes and if the trials are successful then this concept could prove a game changer for many ferry operations in Northern European waters. Gold Coast Yachts is currently expanding its facilities in the US Virgin Islands with a new waterfront site extending to 5.7 acres.
By Dag Pike