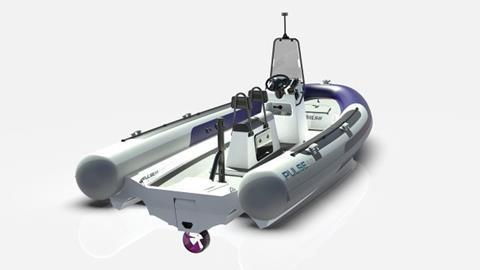 With a range of 35 miles at its maximum speed of 20+ knots, the ground-breaking PULSE58 is the first ever production RIB with a fully integral electric drive
Backed by 25 years of design and build experience in zero emissions boating, the PULSE58 blends proven automotive electronic technology and an extremely efficient electric drive optimised hull form, with the highest level of sustainable construction of any boat in its sector.
A 57kWh battery bank stored in a purpose designed underfloor structural case delivers up to 104v to the ground-breaking RAD drive propulsion unit. RAD drive is a unique and integral retractable drive unit that belt feeds power from the twin motors to a hub-less drive unit. The electronic management system controls all aspects of the drive, motor control and battery conditioning and also controls the electric drive tilt mechanism that lifts the RAD drive into the transom in shallow water.
PULSE58's hull has been purposely designed for its electric drive. The tunnel hull form and long waterline length give decreased low speed drag that suits the instant torque of electric power, while providing a stable and manoeuvrable platform at speed. The battery bank deep in the hull lowers the centre of gravity, increasing comfort. Hypalon tubes and an integral cockpit non-slip floor combine to give a high quality and long-lasting finish.
PULSE 58 KEY DATA

Length (moulding ex tubes)

5.625 m

18.45 ft

Beam (moulding ex tubes)

2.182 m

7.15 ft

Length (including inflated tubes)

6.067 m

19.90 ft

Beam (including inflated tubes)

2.590 m

8.50 ft

Weight ex batteries and motor

280 kg

617 lbs

Displacement weight with two crew

840 kg

1851 lbs
MATERIALS
All core is made out of wood and PET Core (recycled Plastic bottles)
20% Bio content infusion epoxy
Enriched basalt fiber (full recyclable and reusable very low Carbon manufacture foot print)
Natural Flax fiber
Sustainable sourced Glass fiber and carbon reinforcement.