A pollution-tackling company is seeking support for its new development which intercepts river borne rubbish before it escapes to sea.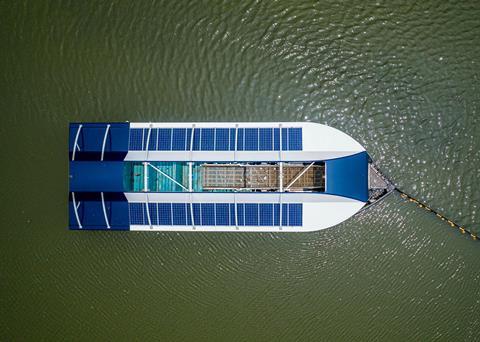 The Ocean Cleanup's Interceptor uses a 'barrier' that is optimised with the river's natural current to guide waste to a moored collection unit. This is a 24m long, autonomous catamaran barge with a central conveyor belt to collect up the garbage flow, feeding it into six dumpsters, with a combined capacity of 50m3.
Powered by solar energy, charging a 20kwh onboard battery, the system monitors the debris levels, automatically distributing it between the individual bins and using a 4G cloud link to communicate with a land-based support team, who then empty the unit as required. Working at optimal efficiency a single Interceptor can extract up to 100,000kg of garbage from a river per day, with the conveyor belt capable of carrying 24kg per second.
The Ocean Cleanup organisation is already known for developing a huge floating 'artificial coastline' to capture and retain Great Pacific Garbage Patch plastic for recycling.
Speaking about the Interceptor, Boyan Slat, founder of The Ocean Cleanup, said: " We've already deployed two, the first in Jakarta, Indonesia and the second on the Klang River, Selangor, in Malaysia. The first has been operating successfully for the past year and the Malaysian model, which is the second generation (informed by the experiences of the first) was deployed in September 2019.
"Two more second generation models are currently in production for deployment in Vietnam and the Dominican Republic, while we're looking to take the third generation from the drawing board to manufacture now. Things are moving fast because they have to."
By Rebecca Jeffrey