The sanctions imposed on Russia by EU countries have led to a change of engines for the lead boat in a series of patrol boats building to patrol the waters around St.Petersburg in the Baltic.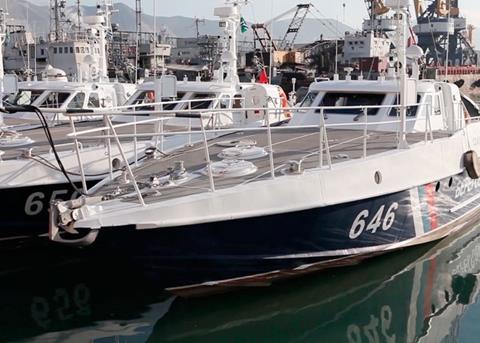 Previously the power units were a pair of 10V2000 MTU diesels of 1500 hp each but because these engines cannot now be imported engines from the Zvezda factory in Russia have been substituted.
The Mangust patrol boats are 20 metres long with a beam of 4.4 metres and with the MTU engines they were expected to have a top speed of 50 knots and a cruising speed of 30 knots. No figures for the performance with the Zvezda diesels, which are type M470MK, have been released but as these are heavier engines the performance is expected to be reduced. The MTU engines were coupled to Arneson Surface Drives in the original specification and it has not been revealed if these have also been changed.
These Mangust patrol boats for St. Petersburg are designed for border enforcement and law enforcement duties. They carry a small RIB fitted on the sloping transom of the boats for slipway launch and recovery.
These patrol boats are being built at the Vympel Shipyard located at Rybinsk on the River linking St.Petersburg and Moscow. Seven of these Mangust patrol boats are included in the current order and all with be fitted with the Zvezda diesel engines.
By Dag Pike