Irish boatbuilder Safehaven Marine has delivered one of its Wildcat 53 catamarans for the King Abdullah port in Saudi Arabia. The design is for a hydrographic survey and ocean research vessel that is also capable of VIP passenger transport and general harbour duties.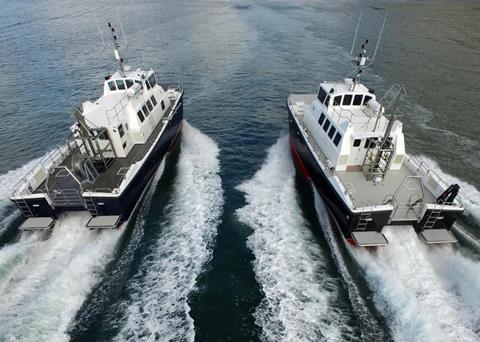 The vessel has a LOA including the substantial aft dive platforms of 17m, a beam of 6.2m and a draft of 1.4m. The vessel has a 28,000kg lightship displacement and a loaded displacement of 33,000kg.
The vessel is equipped with the Kongsberg GeoSwath Plus 250kHz system. A large moon pool of .8m x .8m is fitted with Safehaven Marine's hydraulically operated multibeam deployment system, capable of raising and lowering transducers and equipment up to 300kg in weight to below the keel level, and allowing the expensive and venerable transducers to be safely retracted to above deck level for transit.
The deck arrangement has an 'island' cabin configuration with easy access around the vessel protected by high bulwarks and railings allowing safe operation on deck. Access to the raised foredeck is by twin steps port and starboard with the area protected by railings all round. The aft deck is specially designed for hydrographic and general work boat operations.
A Spencer Carter deck winch is fitted on the aft deck. The transom is fitted with a wide central gate allowing access over the transom and is fitted with a tilting 'A' frame hydraulically operated by two large hydraulic cylinders allowing equipment to be lifted off deck and lowered over the transom. The transom is fitted with twin substantial dive platforms allowing access to the waterline to assist equipment deployment and recovery as well as dive operations. The deck is serviced by a powerful HIAB 026 hydraulic slewing knuckle crane which has a maximum lifting capacity of 430kg at 6m reach and a maximum lift of 1,900kg. This will allow for the vessel to undertake general harbour duties when required which will also be facilitated by her large aft deck area.
The vessel is fitted with twin Volvo D16 engines which provide it with a 24kts maximum speed and a 22kts operational cruise speed. Fuel capacity is 3,500 litres allowing for a 1,400 nautical mile range at displacement survey speeds of 8-9kts and over 350nm at operational speeds.
Onboard 230V AV power is provided by a Westerbeke 15kw generator which supplies AC power to onboard equipment as well as powering four 27,000btu air conditioning units, these combined provide 108,000btu of cool air, essential for the very hot climate the vessel will operate in.
By Jake Frith