Wind farm major Ørsted is backing a new system that promises to provide a safer and more efficient method of transferring technicians onto the turbine tower writes Dag Pike.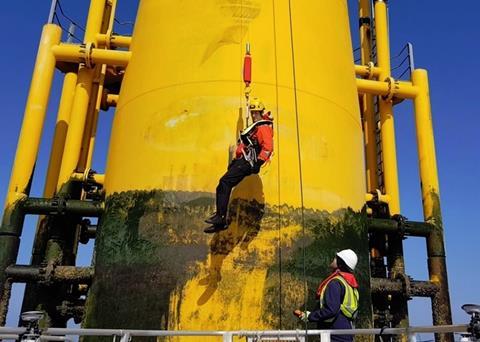 The Get Up Safe (GUS) system is a motion-compensated hoist solution that enables technicians to transfer between small moving vessels bringing the technicians out from land and onto the offshore wind turbines without requiring the customary turbine boat landing and ladders system currently in use. Using the technology of the GUS system means that technicians no longer have to step from a moving boat onto a ladder and then climb to reach the base of the turbine, but instead they can clip onto the system and be hoisted up to the turbine base directly from the boat.
"The hoist automatically adjusts the line position to take account of the boat movements so that in periods of high and varying wave heights there is no danger of collision between the technician and the boat," an Ørsted spokesperson commented. "In addition, as the technology removes the need for external access ladders, the amount of steel required in the turbine structure is reduced providing further potential for cost reduction both in the construction of the turbine base and in its maintenance".
The GUS system was originally developed by Scottish based Pict Offshore, which is a spin-off from height safety innovator Limpet Technology. Limpet began developing the GUS system back in 2016, and from 2017 onwards, prototypes of the system have been tested at the ORE Catapult's 7MW Levenmouth Demonstration Turbine. More than 1,600 successful hoists have already been conducted at Ørsted sites as part of the testing process, the Danish developer said and the technology is now patent-protected and in the final stages of development. The transfer of personnel from wind transfer vessels has always been considered to be a high risk area particularly when sea conditions are unfavorable and it is thought that the GUS system can remove some of the risk involved. "This game-changing new technology can provide a more efficient, safe and cost-effective way of transferring technicians onto offshore wind turbines," said Mark Porter, Senior Vice President for Offshore Operations at Ørsted."As the global offshore wind industry continues to grow, the opportunities for this technology are huge."