A new multi-application vessel for Kystverket, the Norwegian Coastal Authority, will rely on Saft's SLFP high energy air-cooled battery system to meet peak demand for propulsion during dynamic positioning operations and to support overnight hotel loads.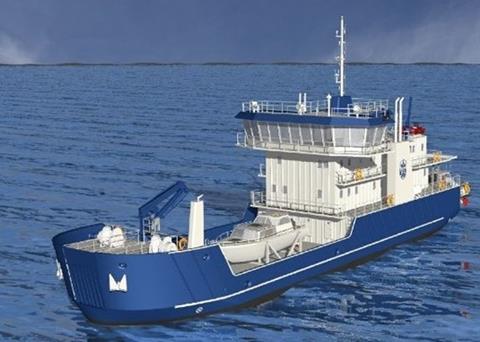 French industrial battery specialist Saft, has won a major contract from Rolls Royce Marine to supply the specialized marine lithium-ion (Seanergy) battery system for an innovative hybrid multi-application vessel under construction in Denmark for Kystverket, the Norwegian Coastal Administration (NCA).
It is Saft's second major contract signed at the end of last year in the marine segment. The high energy battery system onboard the OV Bøkfjord will help Kystverket meet its ambitious climate and environmental targets, reduce maintenance and make fuel savings of 25 percent. The multi-purpose workboat is under construction at the Hvide shipyard in Denmark, where it will be fitted with a Rolls Royce hybrid power system that includes diesel gensets and a Saft Li-ion Super Phosphate (SLFP) battery system integrated into the vessel's automation and Power Management System. The battery system will play a critical role in meeting peak power demand (for example when the vessel is using its dynamic positioning system DPS). Not only will the battery enable the ship to operate using only one diesel engine, but by smoothing out the peaks and troughs in demand the engine will also operate at its peak efficiency point.
This offers the possibility for fuel savings of up to 25 percent together with further operational savings resulting from the reduced requirement for maintenance of the gensets. The air-cooled battery system will have an energy storage capacity of 857 kWh, a nominal voltage of 647 V and a maximum voltage of 745 V. "Winning the contract from Rolls Royce Marine for the OV Bøkfjord confirms the growing reputation for Saft's SLFP design as the battery technology of choice for critical operations in harsh maritime environments," said Jayesh Vir, Saft's Key Account Manager for the marine segment. "The contract also demonstrates Saft's capability to ensure fast-track delivery to meet a very tight ship construction schedule."
The Rolls Royce system is based on Saft's patent pending Li-ion Super-Iron Phosphate (SLFP) technology, which received Bureau Veritas certification in early 2015 and which is on course to receive certification from Lloyds Register and DNV GL. As a Li-ion technology, SLFP has the advantages of high efficiency, long calendar and cycling life, fast-charge capability and high power output. It is also modular, meaning that a battery system can be tailored to closely match the customer's power and voltage requirements. Compared with other Li-ion chemistries, SLFP technology is particularly well suited to civil marine applications as it delivers reliable performance over a wide temperature range, has high tolerance to electrical and mechanical abuse, and a high inherent level of safety.
By Jake Frith