An Atlantic salmon producer has placed an order for a new custom-built aquaculture workboat for its Scottish fisheries operations.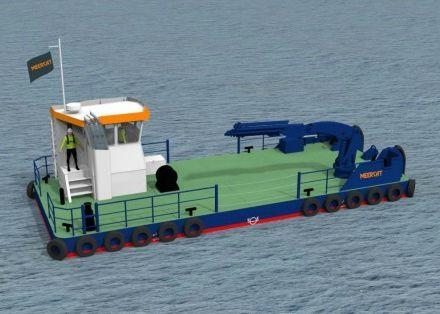 Greig Seafood Shetland Ltd's ((GSFSH) 15m long Meercat DeckMax MRV aquaculture workboat is a steel monohull, which is the first of Meercat's newest range of multirole vessels, the Meercat DeckMax MRV. It features a raised wheelhouse and an accessible deck layout that provides maximised space for cargo.
John Buck, business manager at Meercat Boats stated: "Meercat Boats are regularly seen operating in salmon farming, due to their versatility and robustness, therefore we are delighted that Greig Seafood has selected the Meercat DeckMax for their next vessel, as it is ideal for the role."
The DeckMax has a 6.7m beam, and boasts a shallow draft of just 1.3m whilst capable of loads up to 27-tonnes. She also features a 5t bollard pull. The Meercat will be powered by Doosan 285hp, supported by a BETA 21kVA generator and an EFFER 275-6S crane, and will be coded to MCA Category 3 so that she can operate up to 20 miles offshore.
GSFSH operates hatcheries, grow-out and processing sites in Shetland and the Isle of Skye and is a subsidiary of Grieg Seafood ASA. The new vessel will be operating around the isle of Skye, handling, and supporting aquaculture management and production, as well as general harbour support duties.
By Rebecca Jeffrey