Global salvage specialists Ardent and Smit Salvage are engaged in a major salvage operation following a container ship fire in the Arabian Sea.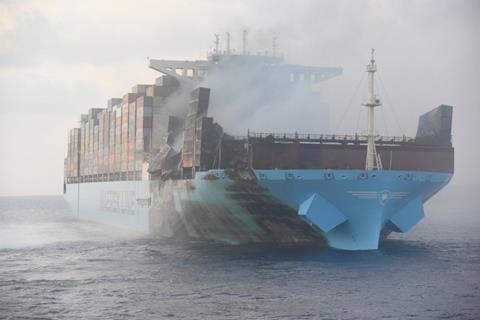 Fires on container ships, often originating from within the containers themselves are a major concern for all involved including salvors and this latest incident reinforces the importance of the professional salvage industry.
Maersk Honam was underway from Singapore towards Suez when, around 900nm southeast of Salalah, Oman it reported a serious fire in one of its cargo holds; it was carrying 7,860 containers at the time. After being unsuccessful in their firefighting efforts the crew sent out a distress signal whereby 23 were safely evacuated to the nearby vessel ASL Ceres. Four crew were reported missing with the situation on the vessel reported as very critical. One of those rescued sadly passed away and two of the remaining crew in urgent need of medical care were evacuated by the Indian Navy.
An Indian Coast Guard vessel commenced firefighting and an additional specialised firefighting vessel was engaged to tackle the blaze which was restricted to the section of the ship forward of the accommodation. It was also announced Ardent and Smit Salvage had been engaged for the salvage operation.
All involved were prepared for what would be a lengthy operation including boundary cooling and protecting the cargo abaft the accommodation. The ripple effect of course goes beyond the actual incident itself with much of the remaining cargo, potentially unaffected now delayed and General Average declared.
Good progress was made with firefighting although many hotspots remained, and plans were put in place to find a suitable port where the remaining cargo could be discharged. Around six weeks after the fire started, Maersk reported that Maersk Honam had arrived under tow at an anchorage outside Jebel Ali Port, UAE. At the time of writing it was expected a further four to five weeks would be required to completely extinguish the fire and further stabilise the vessel before it could be berthed. AIS data indicated four tugs and associated vessels in attendance: Posh Perseverance, Maersk Involver, Zwerver 2 and Alice Prima.
By Peter Barker