An on-going salvage operation has highlighted potential dangers from shipboard fires and dealing with the phenomenon of chemical reaction.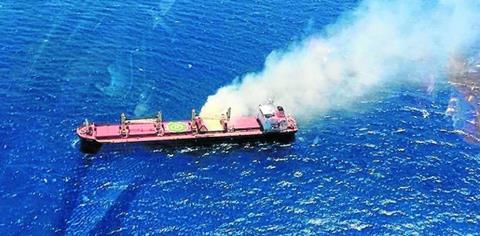 The incident started when the British-owned bulk carrier Cheshire reported signs of a fire in its cargo. The 56,598dwt vessel was 50nm south of the Canary Islands on passage from Thailand to Norway loaded with around 40,000 tonnes of ammonium nitrate-based fertilizer, at the time heading for Las Palmas to take on board bunkers.
Cheshire's cargo had begun to overheat and was starting to emit clouds of possibly toxic fumes with temperatures high enough in one hold to damage the hatch cover. Weather conditions were fine but the wind was too light to carry the fumes away from the accommodation, creating a dangerous situation for the 24 crew members on board.
The decision was taken to evacuate the vessel and helicopters from the Spanish Coast Guard were called in to lift off the crew, all of whom were transferred to safety ashore. Meanwhile Cheshire's owner, Liverpool-based Bibby Transport Ltd appointed US-based salvors Resolve Marine Group to bring the situation under control.
Several vessels became involved with the developing situation. Resolve Marine engaged the services of Five Oceans Salvage's 100tbp AHTS vessel Red Sea Fos which joined other vessels including the SASEMAR pollution control vessel Miguel De Cervantes, Boluda International's AHT VB Hispania and the Moroccan-owned Stan Tug Jacques 2.
Ammonium nitrate is a chemical compound predominantly used as an agricultural fertilizer and also as a component of explosive mixtures used in mining. The heat generated by the chemical reaction was spreading between holds and the initial effort was to cool the vessel with fire-fighting equipment. After drifting for around a week when salvors were unable to board the vessel, Resolve Marine was able to secure a tow line to the Cheshire. Bibby Line reported that the decomposition process was complete in two of the vessel's holds with two other holds still emitting fumes and the fifth hold reportedly stable.
Red Sea Fos slowly towed the vessel closer to Gran Canaria to allow better access to shore facilities with on-board and boundary cooling operations continuing. Several days later smoke from the holds was reported to have ceased and further work continued including restoring power on board and ensuring the accommodation was gas-free.
With the situation now under control the next stage could be addressed. Cheshire needed to be moored alongside a berth with suitable facilities allowing discharge and storage of the remaining cargo residue along with an assessment of any damage to the ship itself. It became clear that such facilities did not exist in Gran Canaria and at the time of writing Red Sea Fos was towing the Cheshire towards the Iberian Peninsula.
By Peter Barker