Turkey's Sanmar Shipyard is continuing its production of Robert Allan Ltd designed tugs releasing further details of deliveries to Italy and New Zealand.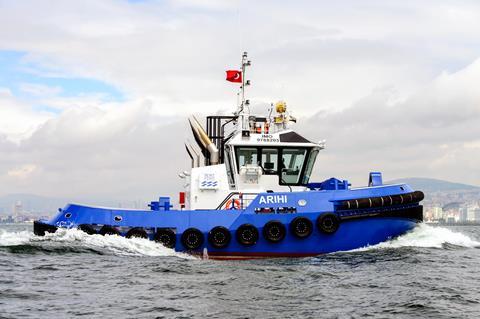 Starting probably as far away from Turkey as it is possible to travel, at the time of writing the tug Arihi is being delivered by heavylift ship to its new home port of Otago in New Zealand with arrival due imminently. The vessel was completed less than five months from the date of ordering.
Arihi is a Robert Allan RAscal 1800 class ASD tug and while being required to provide the usual ship-assist duties it will primarily be used by Port of Otago Ltd assisting in a channel dredging programme which started in 2015. The port aims to have a maintained channel of 14m depth and work is being carried out by its own dredger New Era along with a split hopper barge. Arihi will assist the manoeuvring of the barge and with this role in mind is fitted with a push bow and additional side and aft fendering. The vessel will also be available for external charter opportunities.
An indication of how modern compact tugs are able to provide impressive outputs is the figure of 30tbp on a length of 18.7m. Power is provided by two Caterpillar C32 main engines developing 1,940kW in total and driving Veth VZ-900 azimuth drives which include carbon composite shafts turning 1,700mm diameter propellers in nozzles. Auxiliary machinery includes two Caterpillar C4.4 gensets and deck machinery comprises a DMT towing winch forward and a Data towing hook on the aft staple.
Returning to a delivery closer to home for Sanmar, June MJ briefly mentioned delivery of the tug Ares to Tripmare S.p.A. of Trieste in Italy. With more details now available a closer look is possible at what is Sanmar's first Voith Schneider Propeller tug built to Robert Allan's VectRA 3000 series design developed exclusively for Sanmar.
The brief was for a cost-effective VSP tug under 500GRT incorporating high-speed engines and a clutch between thruster and engine, electronic controls and fully MLC 2000 compliant. Two Caterpillar 3516C main engines developing in total 5,050kW drive the VSP units via Reintjes WAF 843 clutch and reduction gearboxes rather than traditional Voith Turbo couplings allowing the drives to be de-clutched at idle. Performance figures are quoted as 70tbp and 12.5kn.
The flush-deck layout is of standard Voith Tractor form with all accommodation (for six persons) on main deck. A DMT TW-H 800kN hydraulic double-drum winch with tension indication is fitted abaft the accommodation. The drums have capacities of 710m of 54mm steel cable and 150m of 94mm nylon rope, both drums have a brake capacity of 200 tons.
By Peter Barker