Norway's Buksér og Berging (BB) has received its sixth vessel from Sanmar, a powerful tractor tug and the first Tier III tug from the Turkish shipbuilder.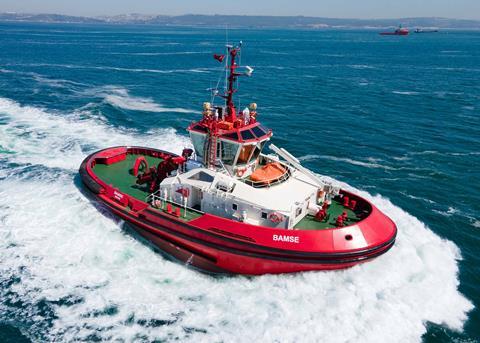 The new vessel, named Bamse is a Robert Allan Ltd design, in this instance its impressive TRAktor 3000-Z tractor tug, the first of two for BB. It will operate out of Brevik, Norway conducting active escort operations through narrow waterways and with a top speed of 14kn, 75tbp and steering forces of more than 80t it will be capable of assisting ships sailing at 10kn in heavy weather. To achieve this performance extensive CFD simulations were carried out during the design phase to optimise escort capability.
Bamse has a length of 30m, beam 12.8m and a maximum draught of 6.35m and is powered by Caterpillar 3516E high-speed Tier III compliant main engines (with SCR units) developing in total 4,400bkW powering Schottel SRP 490 CP Z-drives located forward in tractor configuration. The ABS-classed vessel has a Karmøy escort-rated winch aft along with tugger winch, tow pins and deck crane with the 50t SWL mooring arrangement allowing for towing 'on the hip'.
The fendering arrangement is designed for push-pull operations while alongside low freeboard vessels with an upper row of cylindrical and lower W-fender at the stern. Sheer fendering comprises 'D' profiles including a lower row below the upper chine for low freeboard vessels. Visibility over the stern from the wheelhouse has been optimised allowing for Bamse's usual mode of operating skeg/stern first, its stern is strengthened for operation in light ice.
Accommodation for seven persons is to the usual high standard found nowadays comprising three single en-suite officer's cabins and two double cabins with shared WC facilities. Crew comfort is confirmed by noise level readings taken on trials with levels lower than 60dB (A) in the crew cabins and mess/lounge area and less than 55dB (A) in the wheelhouse, the switchboard room is also acoustically isolated.
Ali Gurun, Sanmar vice president said: "The TRAktor 3000-Z tugs prove that minimising environmental impact does not have to come at the price of reducing power or performance. Here at Sanmar we are proud to be at the forefront of the drive to develop increasingly environmentally-friendly tugboats through technological advance and innovation."
By Peter Barker