Hamburg Port Authority HPA has taken delivery of a new €7.5 million floating dredger in a bid to keep abreast of dredging needs and silt build-up in Germany's biggest universal seaport.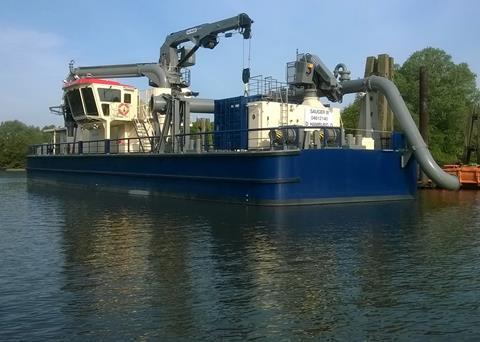 The 37m long by 10 m wide pontoon-style Sauger 111 is reportedly the first dredger for Hamburg Port built by Damen shipyards and the Dutch say it is tailor-made to suit the particular dredging problems of the sprawling Hanse port city.
Hamburg lies 110 kms inland on the Elbe and has a tidal range of 3.6m making it very dependent on regular dredging. Silt removal has in fact of late become a sensitive and controversial political issue in the port.
Sauger 111 was being put through its paces by the HPA during summer prior to full service. HPA spokeswoman Sinje Pangritz said the unit is used to pump dredged materials out of barges and feed them by pipes to shore handling points.
Its central equipment consists of two feeding pumps from Damen Dredging Equipment. One is a Van Voorden feed pump of 6,800 m3/hour capacity and the other a Type BP7570-LD flushing pump handling 8,000 m3/h. They are connected on deck to tubed arms which pump the silt from barges and other carriers. There is also a 300 m3/hour Azcue VR125-33 hydraulic test pump.
Since it is usually anchored to piers Sauger 111 does not need its own engine drive. But it does have its own on-board Type BF6M1013MC Deutz 139kW auxiliary diesel for on board power generation. There is also a Palfinger PK 40002M marine crane on the vessel with 2200 kg SWL @138 m and the platform has its own mooring winches, accommodation and room for a tools container.
Sauger 111, which replaces an older unit of the same name, is the latest specialist HPA dredger and part of a fleet modernisation programme covering a range of workboats. Last year another custom-built dredger, the 35 x 13m Dutch-built MODI joined the fleet to deep dredge areas difficult to reach with conventional equipment. The HPA also has a bucket dredger in service.
The first two of four new ice-breaker all-rounders from Hitzler Werft have also joined HPA this year in Hamburg and are being followed by an even bigger pair before 2016 ends.
The 18m Christian Nehls and Johann Reinke are driven by tough MAN D2842LE412 engines. The third newbuild, the 23m Hugo Lentz was lifted into the water at Hitzler in March and has a 1066kW ABC 6DZC main engine.
Sinje Pangritz told Maritime Journal the last and biggest of the four multi-purpose new boats, the 30m Johannes Dalmann, will be launched this summer. With a 1354kW ABC 8DZC engine, it will see service before year's end.
By Tom Todd