The recently acquired Northern Ireland-based Harland and Wolff shipyard has been awarded a contract for dockings of two vessels for their owners to carry out their annual inspections and maintenance.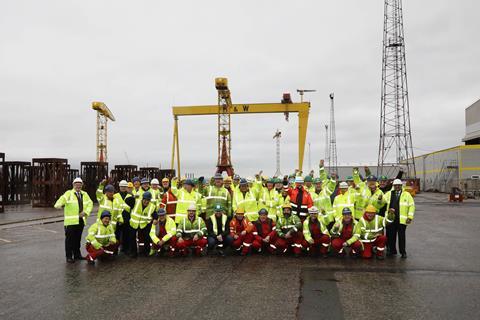 Harland and Wolff's acquisition was only completed by InfraStrata plc on 5 December, while the contract was announced on 6 December. The contract commences from 20 December and will continue until the dockings are completed in January 2020.
John Wood, interim chairman and CEO of the company, commented: "The award of this contract is a crucial milestone in the life-cycle of the Company. The Board committed to being revenue generating in 2019 and has now fulfilled that commitment to shareholders.
"The fact that the completion of the acquisition of the assets of Harland and Wolff was immediately followed by a revenue generating contract validates this acquisition. This is the beginning of a transformational shift in the Company's position to being revenue generative and ultimately cash-positive in the future."
InfraStrata purchased Harland and Wolff for GB£3.3m after it went into administration in August, having failed to secure a buyer when it was put up for sale in June after its Norwegian owner Dolphin Drilling filed for bankruptcy. An additional £1.45 million is payable by 30 April 2020.
Mr Wood said the focus of the company will now include bringing in "a few near-term revenue generating opportunities as quickly as possible".
By Rebecca Jeffrey