Danish-German Scandlines will consider a second rotor sail plant for its hybrid ferry ''Berlin'' if experience with the just-installed system on sister ship ''Copenhagen'' proves positive, writes Tom Todd.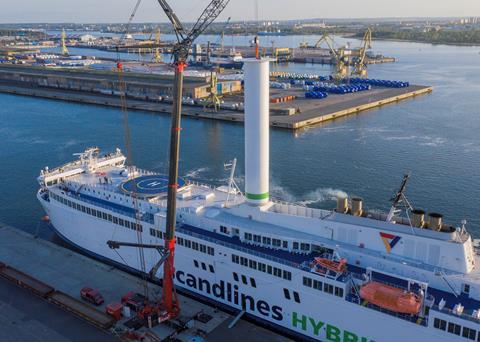 Spokeswoman Anette Ustrup Svendsen told Maritime Journal the 169.5m Copenhagen is currently the only Scandlines ship with the system. However "if the experience is good, we will consider installing a rotor sail on the Berlin as well", she said.
Scandlines expects a 4-5% reduction in CO2 emissions from the rotor plant, fitted overnight in Rostock in May. The port is the German end of the Baltic Gedser-Rostock route served by the two 5,088dw, 21 knot hybrids - both with Mak M32C engines,
The 30m high and 5m diameter cylindrical rotor sail, based on the Flettner rotor concept, was installed by Finnish wind drive specialists Norsepower. However the groundwork for it was laid last year during a routine class renewal and maintenance visit by Copenhagen to Poland's Remontowa Shipyard, when a steel foundation and cables for the rotor sail were laid.
Svendsen told Maritime Journal the power given to the ship by the new system "corresponds to the consumption of a 4mW engine under optimal wind conditions. 20 m/s slightly aerating from across".
She added that expected average saving was about 600kW. "Under the right wind conditions, the rotor sail can deliver up to 1 knot of drive, so we can reduce performance on the drive machine accordingly. The rotor sail can supply indirect energy in the form of drive benefits, so we can save a main engine in the transmission approx. 4mW under optimal conditions".
Norsepower Company CEO Tuomas Riski said the installation showed "retrofitting can be carried out without prolonged interruptions or disruptions to daily operations". It had made Copenhagen "one of the most energy-efficient ferries in the world", he said.
Scandlines' CEO, Saren Poulsgaard Jensen said the new plant showed how "combining all ship optimization techniques is the key to greater progress."
Anette Svendsen commented, "the rotor sail is far cheaper than the new thrusters on the Puttgarden-Rödby hybrid ferries - an investment of €13 million".
That referred to the recent fitting of Kongsberg Contez 35 thrusters on the Scandlines hybrids Schleswig-Holstein and Deutschland. Prinsesse Benedikte and Prins Richard get them next year.