Propulsion manufacturer Schottel is busy supplying propulsion units to anchor-handling tugs in Russia and a salvage tug in Kenya.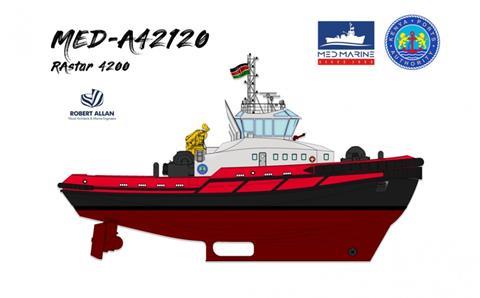 The first project involves two newbuild shallow-draught, ice-strengthened anchor-handling tug supply vessels designed by V Denge Technology for Russian owners to support drilling platforms and pipe-laying vessels including ERRV service in the Caspian Sea. To be name Polar and Polus the pair will be provided with a comprehensive package of Schottel propellers and thrusters.
At the heart of each vessel are three type SCP 65 4-XSG CPP propellers, each with an input power of 1,740kW. The 2.1m diameter propellers have an optimised hub for feathering mode and deliver a bollard pull of 70t and speed 12kn to the vessels, Schottel stating: 'The flexibility and versatility of the SCP allow the propulsion power to be optimally adapted to the required operation profiles of the Russian AHTS vessels at all times.'
The propellers are ice-strengthened to Finnish-Swedish Ice Class 1A Super rules, manoeuvrability of each 73.3m long tug enhanced (to DP1 standard) by a Schottel type STT 1 FP transverse bow thruster delivering 400kW: the vessels will have a minimum draught of around 2m.
A very different operating climate awaits a powerful 'salvage tug' under construction at Turkey's Med Marine for Kenya Ports Authority (KPA). The RAL RAstar 4200 (MED-A4212) tug will provide a formidable 120t bollard pull and like the Russian references be provided with a Schottel propulsion package. Main components are a pair of Rudderpropellers type SRP 710 with an input power of 3,700kW, each fitted with propellers of 3.4m diameter and a hydraulically-driven transverse bow thruster type STT 170 (250kW).
It is claimed the vessel will be the largest tug on the East African coast, to be based at Mombasa and providing shiphandling and coastal towing services with its capabilities enhanced by extensive towing provision, firefighting capabilities, external bilge systems, workshops, ship cranes and dinghies.
Med Marine quotes Rashid Kassim Salim, KPA acting CEO saying that salvage tug services will in essence be a commercial venture available worldwide as a new revenue stream of maritime chartering services when commissioned by October 2021 in a strategic initiative to exploit the blue economy including providing SAR services along the eastern coast of Africa and beyond.
By Peter Barker