German propulsion manufacturer Schottel is to supply rudder propellers featuring its mechanical hybrid system to Uzmar Shipyard for the new Port of Aarhus tug.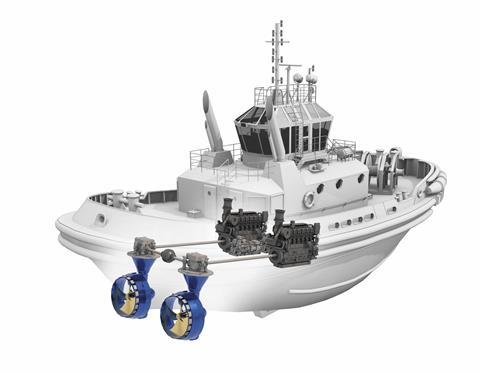 Port of Aarhus' order with Uzmar Shipyard for a Robert Allan Ltd-designed RAmparts 3000 tug was reported previously in MJ and will doubtless be a notable delivery scheduled for summer 2021; the order is of particular note with inclusion of Schottel's SYDRIVE-M hybrid system.
Two Schottel Rudderpropellers type SRP 430 are specified, each accommodating 2,000kW and providing 65tbp in total and 12.5kn for the vessel via 2.5m diameter fixed-pitch propellers, Schottel stating: 'As a mechanical hybrid solution without the costly complexity of common hybrid technology, SYDRIVE-M will ensure lower maintenance costs.'
Tug owners currently have a choice of increasingly successful and varied hybrid solutions with varying levels of complexity. Schottel's 'mechanical hybrid' offering is in principle a simple solution whereby the azimuth thrusters are mechanically linked allowing them to be driven together by only one of the main engines resulting in lower maintenance costs along with less fuel consumption and lower emissions.
The system has no need for additional electronic components or a gearbox, offering advantages via three main operating modes: light operation or free sailing, full thrust operation and fifi mode.
Thomas Haber Borch, CEO at Port of Aarhus points out the importance of a tug with adequate manoeuvrability to handle the very large vessels using Aarhus, Denmark's largest container port adding: 'The yard [Uzmar] lived up to all our minimum requirements, and at the same time they can deliver a tugboat that can sail on one engine as we sail back and forth to the ship to be towed, while we can use both of the ship's engines during the actual towing.'
In separate news Schottel has announced the introduction of a new medium-sized azimuth thruster covering three power sizes corresponding to common engine power classes: 210 (640kW), 240 (850kw) and 270 (1,000kW). The new M-series thruster is available for all types of vessels including electric or hybrid-driven vessels including tugs, the azimuth modules available for Z-drives, L-drives and ZY hybrid drives suitable for horizontal electric, vertical electric motor combined direct engine plus horizontal electric motor connection. The M-series is also compatible with Schottel's SYDRIVE system mentioned above.
By Peter Barker