Macduff Ship Design has announced that Colombo Dockyard PLC has delivered two Pilot Launches to Sri Lanka Ports Authority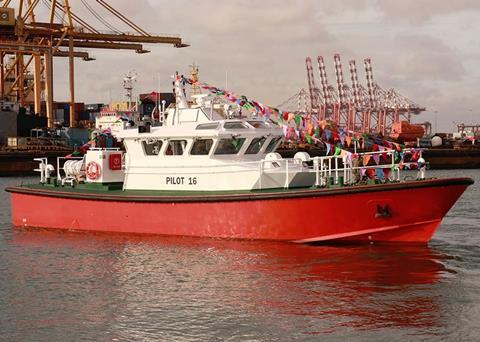 The two vessels are the first of a three vessel contract with the third vessel currently in build.
The Pilot Launches were of a revised repeat design supplied by Macduff Ship Design Ltd. The Launches will serve to transport pilots from shore to ship and can accommodate a total number of eight persons including four crew members and four pilots and have achieved a service speed of 22 knots on trials.
These Pilot Launches are designed to hold a high degree of stability and comfort in all weather conditions and provide a stable platform during embarking and disembarking pilots. The vessels are of steel hull and Aluminium wheelhouse construction. They are powered by a pair of Caterpillar C32 Main engines driving through ZF3050A units with 2.52:1 reduction ratio gearboxes to 1050mm diameter fixed pitch propellers supplied by Teignbridge Propellers.
Shipyard and designers are also able to confirm that they have entered into a contract with KOWA company Ltd of Japan to supply a further variant of this vessel.
By Jake Frith