Scrabster Harbour in the very north of Scotland is planning developments to the piers in the harbour to improve the facilities for visiting cruise ships and to enhance the facilities for offshore service vessels writes Dag Pike.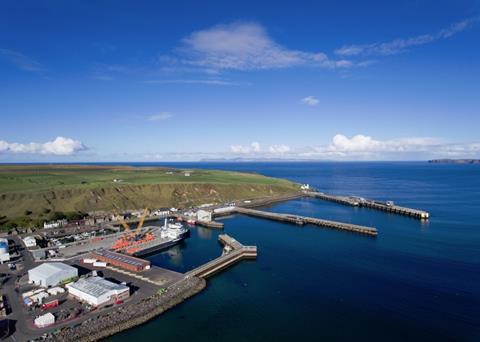 According to the official announcement, redevelopment is required to suit the proposed dredging of the inner and outer berths at St.Ola Pier to accommodate cruise vessels and ongoing oil/gas supply vessels which need reliable accessible service berths with adequate loading provision for cranes and equipment. Most of the planned development and dredging will focus on this central pier in the harbour.
The works required include partial demolition of the existing pier and its reconstruction with marine piling and infilling with dredged and imported filling. There will also be tie rod installation, concrete deck slab and reinforced concrete capping beams incorporated as part of the pier reconstruction. The layout of berths on the existing pier is to be altered slightly to deliver a uniform quay a width of 32m which will provide better access for coaches and taxis for cruise ship guests and this will help to maximize the functionality of the pier and provide a straight berth alignment on each side. When the redevelopment is complete the pier will have a length of 280 metres and a width of 32 metres.
The outer berth at St.Ola Pier will be dredged to a depth of 9 metres and the inner berth to a depth of 7.5 metres. Whilst some of the dredging spoil, which will comprise mainly sand and gravel, will be used for infilling, the balance will be disposed of at nearby dumping grounds. In total about 150,000 cubic metres will be dredged. The fresh water supply to St.Ola Pier will be rerouted with a dredged trench housing the pipeline from the inner Ice Pier.
Land reclamation work and rock armoured revetment construction are planned on the route leading to the Queen Elizabeth Pier which will support the pier development and improve queuing and access to the Orkney Ferry berth located on this seaward pier. Again this reclamation operation will use some of the dredged material with the rock requirements being met by imported material.