GPS Marine has scooped a prestigious UK transport award, being named Logistics Sea Freight Operator of the Year at the Freight Transport Association (FTA) Logistics Awards 2018.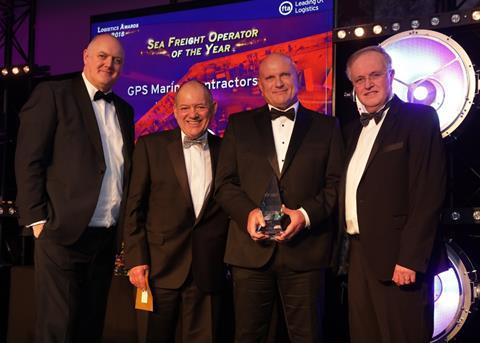 The awards celebrate companies which play a vital role in delivering the raw materials and goods which Britain needs to succeed. GPS Marine Contractors Ltd was named as Sea Freight Operator of the Year, in a category sponsored by Multimodal.
In attendance were more than 400 representatives from all modes of freight transport, including air, sea and road, as well as the industry's buyers and support sectors. The prestigious awards celebrate the companies and individuals who have made a significant contribution to the logistics and supply industry through their dedication, innovation, and diligence during the past 12 months.
SUNSET INDUSTRY
Managing Director of GPS Marine Contractors Ltd, John Spencer, commented: "Having been told by the then Port of London Harbour Master (Lower District) in the early '90s that barge traffic on the Thames was gone forever and even having felt myself until the early 2000s that freight transport by barge on the Thames was the ultimate sunset industry, my team and I have often felt that we were swimming against a full spring ebb tide. Subsequent appreciation of the vast economic, social and environmental benefits of river freight on the Thames by planners, utilities and the construction majors encouraged us to develop and invest heavily in our business."
GPS Marine has responded to a massive increase in demand triggered by major central London infrastructure developments and associated environmental concerns, by investing £4.8m in a fleet of 10 leading edge hopper barges. The company has taken millions of tonnes cargo from the streets of London for projects such as Canary Wharf, CrossRail, Thames Gateway and the Northern Line Extension and transferred that freight onto the River Thames. Transport of cargo in these large parcel sizes is safer and cheaper with far less harmful emissions and environmental impact than road transport.
By Jake Frith