Damen Shiprepair Amsterdam (DSAm) has concluded major modification works on the A2SEA (Denmark)-owned offshore wind farm installation vessel 'Sea Installer'.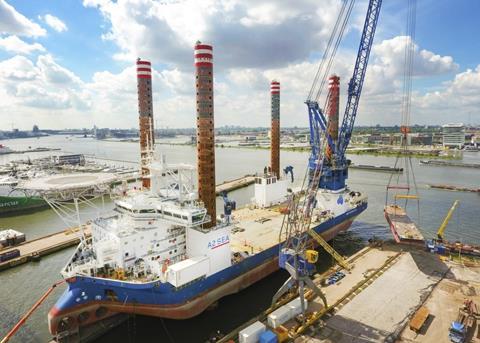 The principle scope of work involved the extension of the main crane boom, giving increased reaching capacity: a pertinent point considering the trend of the increasing size of offshore wind turbine components. Other work comprised structural modifications as a consequence of the larger crane.
DSAm, part of Damen Shiprepair & Conversion, began the work by removing all crane-related components including the boom, boom rest, A-frame, winch and hook block pockets from the vessel. A2SEA supplied the new A-frame and boom extension. Niron Staal, also part of Damen Shiprepair & Conversion, supplied the new boom rest, hook block pockets, trolley rail and support stools.
The crane boom was lengthened by inserting the new extension. The fact that all elements were composed of high tensile S690 steel had its consequences to the timing of the project. Damen Junior Project Manager Remco van Dam said: "This material requires distinct and carefully planned procedures. You can cut it when it's cold, but, before you weld it, you need to heat it with heating elements to 200°C to remove any traces of water."
"Then, after slight cooling, the welding itself needs to take place at the correct temperature in a protected environment. For this, we constructed air-tight welding tents."
Once complete, the weld in question was cooled prior to non-destructive testing after 48 hours.
The configuration of the upgraded crane is such that it can be operated in two modes: a long mode with the crane boom extension in place, and a short mode with the extension removed. The Sea Installer now has a flexible crane capacity of 900 tonnes in short mode and 700 tonnes in long.
Installing the larger crane on the Sea Installer had numerous implications on existing on board structures. The boom rest had to be replaced, which in turn necessitated additional modifications to the accommodation area. In order to house the main hook and auxiliary hook in both long and short mode, the existing auxiliary hook block pocket was replaced with a new construction that comprised one main and two auxiliary hook block pockets.
The bigger crane also needed a bigger winch: DSAm replaced the existing winch with a larger, 900-tonne capacity, winch. This included all the necessary adjustments of the electrical, hydraulic and cooling systems. The vessel's main mast also needed structural modifications.
With the 132-metre long vessel at the yard, DSAm also executed various standard maintenance jobs such as painting, pipe renewal and thruster inspection.
By Jake Frith