Damen Shiprepair Amsterdam (DSAm), part of Netherlands-headquartered Damen Shiprepair & Conversion, is currently undertaking a major modification and maintenance project on the jack-up vessel 'Sea Installer'.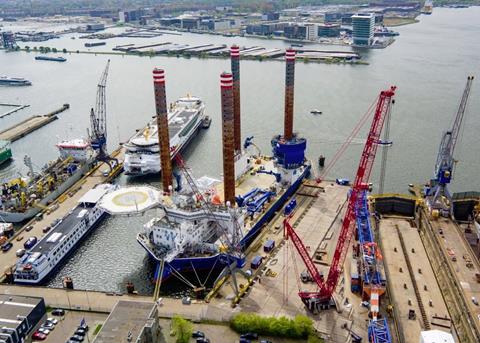 In what is a multidisciplinary project, the yard's primary focus will be to upgrade the vessel's main crane. With its increased lifting capacity, the 132-metre A2SEA-owned vessel, which is used chiefly for offshore wind farm installation purposes, will be able to take on a broader scope of work as offshore wind activities involve heavier and larger components.
Arriving at DSAm on 10 April, the Sea Installer took her position alongside lay-by berth number 1. The smooth running of this project is facilitated by the prefabrication of key components at nearby Niron Staal Amsterdam, also part of Damen Shiprepair & Conversion.
Niron Staal fabricated and supplied the new boom rest, hook block pockets, trolley rail and support stools. With these parts ready from the outset, DSAm was able to commence the project at maximum capacity.
With the vessel's boom, boom rest, A-frame, winch and hook block pockets already removed, operations are now in full swing. Ready for lengthening, the boom has been positioned on a support structure consisting of 15 stacked shipping containers.
"We are looking at finishing this considerable project within a 2-month timeframe," concluded Mr Gerner. "The strong winds that we had here during the first couple of weeks have set us back a bit, but we are still on course for timely completion. If necessary, we can ramp up our work schedule by moving to 24/7 operations."
By Jake Frith