Irish company JFC has introduced a new range of navigation buoys that are based around a modular construction system designed for use for both inshore and offshore applications.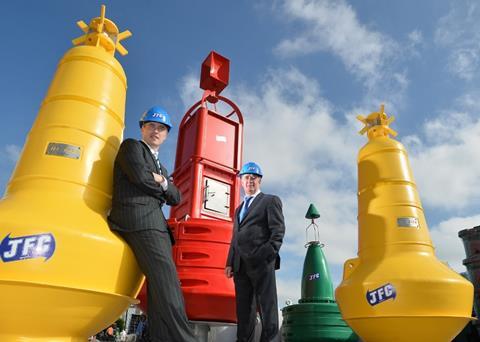 These new buoy concepts are designed to reduce operating costs and at the same time they are designed for maximum reliability and practical use
This navigation buoy has been designed with an emphasis on durability, flexibility, and economy throughout. It features a unique hull, central core and ballast arrangement, with a modular adaptable day mark. It also boasts excellent structural stability characteristics, power versatility and environmental credentials.
Made from rotationally moulded UV stabilised virgin polyethylene designed especially for marine applications the buoys have extra strength mooring and lifting eyes to ensure ease of handling and connection designed to increase the service life.
By addressing key design criteria JFC claims that their Seagull range of buoys can reduce costs and increase servicing intervals. The buoys provide safe access for maintenance personnel and ease of operation has been prioritised as have all deployment, mooring and retrieval requirements.
The Seagull buoy range is manufactured in accordance with the IALA high visibility colours and shapes to suit a range of installation requirements. With a high focal plane and both high visual and radar visibility the buoys are fitted with battery compartments to power the optional lights. The buoys feature a central core around which the selected components are bolted so that the one basic design can be adapted to meet specific colour and shape requirements.
By Dag Pike