A retractable floating pier, known as a SeaWalk, will provide easier access for cruise ships and passengers at the Port of Nynäshamn, one of the main cruise destinations in the Stockholm region.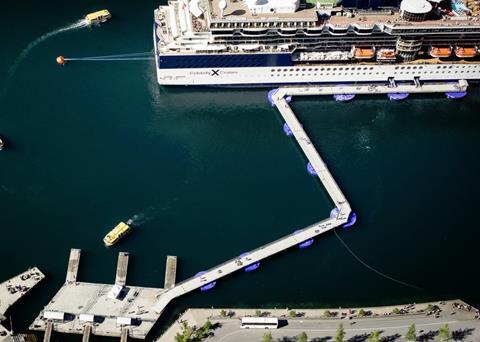 Nynäshamn has now been equipped with a 260 metre-long SeaWalk, which is an extendable/retractable floating pier allowing direct access. This can be extended out and connected directly to the cruise ship to make it possible for passengers to disembark directly onto dry land.
Previously all of the cruise ships visiting the port had to anchor just outside the Port of Nynäshamn and then be transferred ashore by tender. "We are very happy to be able to make things easier for the passengers and the cruise shipping companies are all very positive about our investment, as they have good experience of using the same solution at other ports," said Henrik Ahlqvist, the manager for Cruise and Ferry & Deputy Harbour Master at the Ports of Stockholm.
The SeaWalk is a floating pier constructed in sections that allow the connections to swivel in the horizontal plane. These hinge points are supported with a circular float that provides the buoyancy for the Seawalk and further floats are incorporated along the length of the SeaWalk. There is enough reserve buoyancy to ensure safety in the event of a float getting damaged.
When not in use the SeaWalk is moored alongside the dock, the three sections allowing compact stowage. When required for use it is extended out to the ship and in addition to providing a walkway to the shore there is also a floating platform that is attached alongside the ship for easy access. The cruise ship is moored in position to mooring buoys fore and aft just offshore to hold it in position and the SeaWalk is flexible enough to allow for small movements of the ship.
Several SeaWalks have been installed at ports along the Norwegian coast where they have operated successfully according to the company. They provide direct cruise ship shore access at a fraction of the cost of constructing fixed terminals. The SeaWalk installed at Stockholm is 260 metres in length when fully extended. The walkway has a width of four metres allowing plenty of space for two way pedestrian traffic and it is also possible to drive smaller vehicles along it, which enables better loading and offloading of any baggage and waste from the ship.
Last year the cruise season attracted a record 530,000 passengers to Stockholm with as many as 247 cruise ships called at the port. 22 of these anchored at the scenic fjord of Nynäshamn and with the installation of the SeaWalk this number is expected to increase.
By Dag Pike