The Spirit of Innovations Showcase at Seawork 2016 will display the latest projects, products and vessels that are forging ahead in the industry to provide new solutions.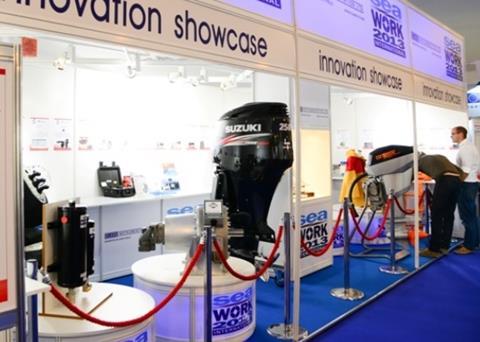 Located in Seawork's undercover exhibition area, the Innovations Showcase is judged in six main categories: vessel design and construction; marine civil engineering and construction; marine equipment, electronics and materials; diving and underwater technology; renewable energy and safety and training.
A Certificate of Commendation is awarded to the winner of each category. In order to qualify, all entries must be new to the market in the past 12 months and provide a valuable insight into the latest in design, technology and applications.
2015 winners
The overall winner of the Spirit of Innovation award in 2015 was Gobbler Boats for the Gobbler Offshore 290 OSRV. It was the only craft available where the collected oil is not stored on the vessel, allowing shallow exit of waters and fast escape from flame-outs.
Category winners included Dynamic Load Monitoring, winner of the Marine Equipment, Electronics and Materials award for its acoustic load shackle 16. Fairlocks Pool Products Ltd won the Diving Underwater Technology category with its Nemo Underwater Drill.
Marine Civil Engineering and Construction went to Bollard Load Testing and the Power and Propulsion category was won by MDS Marine.
The Seawork Lifetime Achievement Award was given to Peter Nelmes of ZF Services UK for his many years' service to the sector, while the 3Si Maritime Professional of the Year was awarded to Anne Hornigold of 54 North Maritime, who also won the Maritime Training Category in the Innovations Showcase.
2016 entries
Maritime Journal took a closer look at the entries received so far for this year's event and what they offer to the commercial marine industry.
3Si
The Constant Wear Lifejacket can be worn for long periods continuously, achieving high performance in extreme environments. It aims for a unique shape to make it more comfortable and is sculpted to fit for unrestrained upper body movement. It has a zip-on utility pouch at the back to carry tools and personal items, effective for encouraging personnel to wear a lifejacket more of the time, and especially when transferring across water between vessels, buoy jumping and platform transfer. It comes with a spray hood option and a personal safety equipment stored in the utility pouch can be customised for individual application.
Stand: PO39
20 Knots +
The DYnamic NAVigation (DYNAV) Manual provides the education, procedures and techniques that deliver performance and safety on the water, for craft operating at higher speeds and in more dynamic environments. DYNAV's approach gives the crews the specific processes designed to maximise safety whilst reducing workload. The 177 pages are broken down into chapters which highlight the theory, history, how the system works, crew communication, on-water operations, hovercraft navigation and instruction methods.
Stand: PG124
Actisense
The PRO-BUF-1 is new approach to data buffering using Actisense's OPTO-isolation on its two inputs and ISO-DriveTM Technology on its 12 outputs. Its browser based configuration tool, allows for customised modes of operation to be set as well as selecting from predefined modes. The PRO-BUF-1 also features a built in DIN rail mounting mechanism, and an interchangeable pluggable connector system which supports both screw and screwless terminals.
Stand: PG6
All Yacht Parts Ltd
The programmable long range high power tactical beacon systems from All Yacht Parts Ltd are constructed using precision CNC machining in the EU, finished by hand and each unit is individually tested. Developed for military or naval use to achieve long range infrared signalling transmissions, the beacons can transmit horizontally and vertically up to 6nm allowing for infrared communications of distress, enemy whereabouts or users' programmed message.
All Yacht Parts Ltd's High Performance Marine LED Spotlights can be installed on a variety of vessels through to lighting pontoons and need minimal maintenance through the sea-growth elimination. The single LED marine spotlights have a contemporary design with a lumens range of 1000-5500 and a low power range from 10w-50w. Its nitrogen gas charged chamber prevents the corrosion of the LED and eliminates any fogging to the lens.
Stand: SB46
AST Marine Sciences Ltd
The iRAMS Planned Maintenance System allows remote, near-real time monitoring of vessel engines from an onshore PC or mobile device. Once fitted to a vessel, the system can transmit and record engine data from anywhere in the world, to a remote device. AST Marine Sciences' new system combines powerful satellite remote engine monitoring, vessel tracking and alerting with an auto-populating planned maintenance system.
Stand: PB131
Auto-Maskin
Auto-Maskin's new Marine Watch give operators a fully integrated overview and functionality for alarm control and monitoring onboard. The status for all channels are displayed as rectangles on a colour touch screen in a grid fashion. In the event of an alarm, the corresponding rectangle will flash in red, instantly drawing attention. The channel is acknowledged by an operator pressing the rectangle, and the rectangle indicates as acknowledged. It can also be easily configured on the touch screen operator panel by the end user.
Stand: PO15
C A Clase UK Ltd
The LT-1000 NRU (Navigation Reference Unit) has 12 position sensors that give the accuracy and functionality of a satellite compass in a more compact size. With the use of sensor-fusion and Kalman filtering the LT-1000 NRU outputs: true-heading, roll, pitch, position, ground speed, course over ground, air pressure and temperature in real-time. C A Clase UK's navigation reference unit can also simultaneously output NMEA 0183 & 2000, it is designed and built for the demanding and rough environment at sea.
Stand: PG126
C-Sense
C-Sense's new Tele-Pilot solution to easily send measured data from a boat to the office allows shipowners to have remote access to data collected on board without an IT department or investing in complicated software. Tele-Pilot was originally designed as an extension of the fuel consumption monitoring device, Eco-Pilot, so shipowners could get access to their fleet consumption at a glance. It reads and processes the fuel consumption data, transforming raw data into xml files.
Stand: SB78
Dometic
The Titan Chiller from Dometic features a titanium condenser which aims to make the units virtually immune to erosion and corrosion, and able to withstand harsh chemical cleaning procedures. The design uses new industrial-grade titanium and is enabled by Dometic's patent-pending method of connecting the titanium inner tube and exterior tube to create smooth-tube chillers and successfully eliminate vulnerable cupronickel. A recent four-month beta test on the 88-foot Hatteras yacht Esprit D'IV in the Chesapeake Bay showed that the new titanium condenser stands up to frequent harsh cleaning and high water velocity far better than traditional condenser metals.
Stand: PG90
Duodrive Limited (Duodrivetrain)
Duodrive's existing patent is incorporated into a new complete drive-train, Duodrivetrain, which features a wider patent and a simple installation design. Its core concept is that all the precise alignment and set-up be carried out onshore. No substantial design modification of an established shaft drive propulsion layout is required and removal for maintenance of the installation can be accomplished in minutes. It combines all the variable elements in a propulsion drive train into a single factory aligned component to ensure efficient thrust
Stand: VB03 / PY38
Excel Innovation Ltd
The Bilge Bug from Excel Innovation is an electronic bilge pump which features no moving parts, aiming to ensure a longer and reliable life span. It has been designed as a replacement for the float switch and can operate in the challenging environment of the bilge. The Bilge Bug will operate in both salt and fresh water. Backed by a seven-year warranty the electronic bilge pump switch aims to keep your bilge clear of water with minimal maintenance.
Stand: SB3
Forge Group Limited
Balex Auto Boat Loader ABL2500 can load and unload safely in a controlled operation 2.5 tonnes of boat from trailers and floating docks. It reduces time and effort, by simplifying and automating the process of launch and recovery thanks to a simple remote control which can be operated from inside the vehicle, standing ashore or from on-board. The ABL2500 eliminates the need for human intervention during operation, removing associated dangers of people in the water or behind vehicles during launch and recovery.
Stand: Q33
Hamilton Jet
The JETanchor from Hamilton Jet offers operators of smaller waterjet vessels the capabilities of a JETanchor positioning system which has benefits which would have previously only been available to operators of larger vessels. It aims to provide a significant reduction in operator workload, reduction of crew fatigue during standby operators, and improved safety and reduced fuel consumption.
Stand: Q7
Hella Marine
The AS3 RF CommSafe high performance DC floodlight aims to ensure EM emissions are below industry standards. Hella's product is designed to ensure no interference with AIS and VHF systems as a commitment to safety and quality. Producing 2700 lumens, it offers highly effective illumination with a power consumption of only 45W. The housing features a bonded non-stick coating the does not corrode, discolour or peel under harsh UV or chemical exposure. The AS3 lamps carry a five-year warranty.
Stand: SB18
Hepworth International
Hepworth's flush-fitting anchor point connector has an easily removable probe which can be connected to many different fittings. The simple yet advanced design of the 1 Tonne Multi-Purpose Connector is watertight, easy to install on any surface and has quick release action. Designed using marine grades 316 and 17-04 stainless steel to withstand harsh environments and regular salt immersion. The probe as standard is fitted with a high tensile shackle which can then be attached to lifting eyes or straps such as Yacht and Ship's Tenders, lifting beams and other marine or aircraft.
Stand: A38
JFC Manufacturing Co Ltd
JFC's range of data or met acquisition buoy floating structure solutions can be designed to fit customers' specific needs and host necessary instrumentation equipment. These include weather stations, sensors, measuring instruments, wind or solar generators, data transmission and technical compartments. The products are approved to the internationally recognised ISO 9001: 2008 standard.
Stand: PB69
Man Truck and Bus AG
Based upon the innovative Miller cycle, MAN's new engine incorporates the characteristics of all MAN marine engines while being significantly lighter and achieving vast improvements in both NOx and particulate matter exhaust emissions. It is suited to a wide variety of applications and is popular with boats ranging from high speed craft to gill netters and survey vessels. The 12.4 litre common-rail D2676 marine engine family is compact and achieves a wide torque plateau from low engine speeds characteristic of all MAN marine.
Stand: PB5
Marine Specialised Technology Limited
The new MST ILC600 is a 6m inflatable landing craft specifically aimed at commercial, military and professional operators. It has created a new solution for flood rescue teams as the agile craft can easily accommodate equipment and machinery. The craft can be deployed within seconds using high pressure breathing apparatus bottles or in minutes with traditional hand or foot pumps. The ILC600 can be carried by only four people, when used in a rescue scenario, the bow ramp provides direct access into the water and facilitates recovery of injured casualties with minimal effort; essential when dealing with suspected spinal injuries.
Stand: Q17
Ocean Signal
The Ocean Signal M100 and M100X MSLD (Maritime Survivor Locating Device) is a rugged man overboard product which incorporates the latest technology to ensure rapid rescue within a compact, sturdy design to specifically meet the needs of offshore workers. Easy to attach to immersion suits and inflatable life jackets ready for automatic activation, the MSLD will transmit an alert to all AIS receivers and AIS enabled plotters in the vicinity.
Stand: PB87
Pinpoint Electronics Ltd
The Life Cell from Pinpoint Electrics is an emergency floatation device for boats that keeps people together in the water and stores essential safety equipment to aid survival. It is highly visible with clear signage and is designed to float off its mounting bracket in the event of a vessel sinking or capsizing It is specially designed flare so that all smoke flares can be secured within the device and easy to access in a time of emergency. The Life Cell is fuel, fire, impact and UV resistant and passed all independent testing including being soaked in fuel for two weeks, being exposed to the naked flame and being dropped 30m.
Stand: SB99
Precision Blast Systems Ltd
The Microstrip MiniPro compact abrasive system from Precision Blast Systems Ltd can operate with fine hard abrasives and soda with very low abrasive consumption, reduced dust and precise control of blast pressure. It is designed for spot cleaning and corrosion treatment on marine vessels, structures and offshore installations which require a small, portable machine with low levels of dust and waste. The Microstrip MiniPro was developed in cooperation with partners at Gritco in the Netherlands.
Stand: PY26
Punk Coupling Ltd
Punk Couplings uses a geometric approach to combine the benefits of a gear coupling with the flexibility of a universal joint, the patented design creates a compact and robust coupling. It represents a new type of torque coupling technology that has reduced space envelop, weight, system parts count and complexity. Using diametrically opposed cylindrical keys or axles, each mating pair of rings has a single free axis of relative rotation, one at 90° to the other.
Stand: PY38
Sea Sure Ltd
The retro-fit shock mitigation seat unit from Sea Sure has been developed to improve passenger ride quality in smaller commercial and leisure craft. It incorporates the latest shock absorber technology, geometry, construction and bearing systems. For commercial owners and operators, it provides a low-cost upgrade and helps with the health and safety issues detailed by the MCA on mitigating the effects of shocks and impacts on smaller vessels.
Stand: Q40
SHOXS Seats
The SHOXS 5005 jockey suspension seats incorporate patent-pending SHOXSPRO isolator technology to achieve performance without needing to adjust for occupant weight. Adjustments can sometimes pose a risk of compromising safety due to incorrect use. The SHOXS 5005 is designed to be ultralight with waterproof storage bags incorporated into the mass of the seat.
Stand: PG130
Spinlock Ltd
With Lume-On, Spinlock has used modern LED technology to improve Man Over Board identification and recovery. Lume-On combines the latest in LED, battery and waterproofing with the traditional lifejacket bladder, to use the whole lifejacket as a light and turn it into its own signalling device. Sold in pairs, minimal, compact and lightweight, Lume-On are attached to the underside of the lifejacket bladder using special adhesive patches. Once the lifejacket inflates and the Lume-On sensors contact water, the LED lights become illuminated, flashing and filling the bladder with light.
Stand: PG138
Survitec Group
The SLA 3.5 hook from Survitec Group standardises operation procedures for launching life rafts and rescue boats making it simpler and safer for the crew on board the vessel. It is an off-load fall mounted automatic release hook with a safe working load of 3.5 tonnes and is suited for various types of life raft and rescue boat. The SLA 3.5 is easy to operate and can be released automatically as well as manually. Additionally, it can be serviced on board to benefit the vessel.
Stand: PB67
Tech4Sea S.R.L
Rondon 100 from Tech4Sea S.R.L is a cordless underwater drill that allows the operator to replace the battery directly underwater. It can be used both as a screwdriver and a drill and does not need any support boat because it is battery powered (36 V 5 Ah, Lithium-ion cells). It is designed for professional use and is water-resistant up to 100m thanks to its anodised aluminium six series shell.
Stand: D10
The Pontoon and Dock Company Ltd
Multi-Mover from The Pontoon and Dock Company Ltd is a pedestrian battery-powered towing machine with towing capacities between 1,200 and 40,000kg. It aims to provide an inexpensive and easy to use method of moving trailers around a marina, boatyard or workshop.
Stand: A156
The Seat Design Company
The Greenlight Seat has been designed by the Seat Design Company with the specific requirements of the crew transfer vessel sector in the marine industry. By adapting technology from the automotive industry SDC's engineers created a design which is ultra-lightweight to improve fuel consumption of the boat. It has been tested and type approved to HSC2000 by DNV-GL and is now used around the world in a number of seagoing vessels, the most recent being the Seacat Mischief produced by South Boats.
Stand: PG70
XCommNet Ltd
All new super-fast routers from XCommNet aim to provide the market with a service that delivers high speed internet direct from any power supply off any coast up to 21 miles out. This is achieved by supplying multiple internationally valid data SIM's and aggregating (bonding) the connectivity to deliver super-fast and super secure internet. The service can be provided to clients in as little as 48 hours, and XCommNet's technical support team are available 24/7.
Stand: SB100
By Alice Mason