Seawork 2018 exhibitor National Workboat Association (NWA) has launched its newly-updated towage guide with the addition of a new stability annex.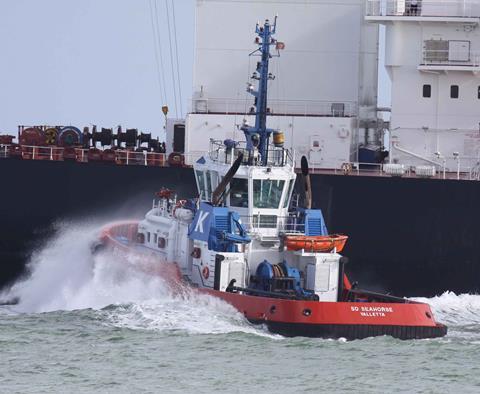 The new guidelines, Use of Workboats for Towage: Good Practice Guide reflect changes to the towage sector and include additional guidance on the safe use of gog devices to prevent girting. NWA state there is a lack of clear guidance on this topic, the importance of which demonstrated by girting incidents recorded by the UK Marine Accident Investigation Branch.
The guides were prepared by Captain J Mark Meade of Holyhead Towing and Captain Gareth Bonner of SMS Towage (Annex II: Tug Stability: A Basic Guide for Masters) and primarily aimed at the main workboat towage areas: towing non-propelled barges and other objects in port; on coastal work sites and for coastal towing. The reader is reminded that most workboats have conventional propulsion, albeit mainly twin-screw and quite manoeuvrable but that those engaged in ship-assist port towage should refer to more specialist guidance, references are included to such sources.
The assumption is made that for certification of the tow it is a UK-flagged vessel towing under typical BIMCO charter conditions from a UK port under jurisdiction of the MCA. The guide is nonetheless a wealth of useful, detailed and interesting information and could make an important contribution to good safety practice if adopted in the form of an extensive 'check list' style document for training newcomers to the industry and perhaps as a refresher for those who are not so new.
Sections covered include: the tow itself; the tug and its suitability; the all-important consideration of the tug's crew; activity before (passage planning) and during the tow and picking up a tow at sea. An annex examines in detail the principles and importance of gogging arrangements.
Produced separately, Tug Stability: A Basic Guide for Masters is intended as a refence for those reading the guide reviewed above, in particular the section concerning operation of the tug itself. The booklet is a comprehensive, but easily understood guide to stability and unravels some of the mysteries including the abbreviations commonly found in workboat stability books, an understanding of which is vital in achieving a safe operation with a satisfactory conclusion. Anyone interested in purchasing the guide should contact secretary@workboatassociation.org
By Peter Barker