Seawork exhibitor Williams Shipping has launched two pilot boats at Portsmouth International Port.
Willserve and Willfreedom are both 14.9m fast launch Interceptor 48s, built by Safehaven Marine, also a Seawork exhibitor.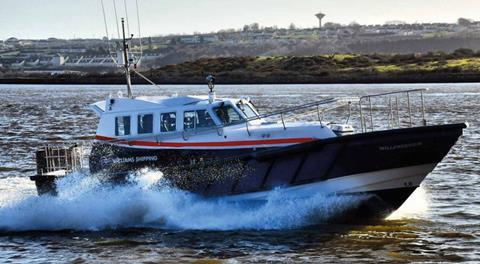 They have been launched at Portsmouth to increase the flexibility at the port, which is seeing more cruise and cargo vessels using the port that will need safe guidance of pilots who will use the boats to access the ships and guide them in and out of the port at any time of day and in all sorts of weather.
Williams Shipping is Hampshire based and is now in its fifth generation of the Williams family owners, going back 129 years.
The company operates a fleet of more than 20 workboats and vessels and says it has the UK's largest registered fleet of barges, which include dedicated wind turbine blade transport.
"Williams Shipping has looked for an opportunity to expand further across the South Coast," said managing director Philip Williams. "This opportunity to work alongside Portsmouth International Port opens many doors, enabling them to further supporting the marine industry. Willserve and Willfreedom are great additions to our fleet and we look forward to having them in service supporting the port's increasing number of high-profile customers."
"Portsmouth International Port's growth is vital to the city's economy," said Cllr Steve Pitt, of Portsmouth City Council, which owns the port. "Not only does the port provide £9.8million of revenue that goes straight back into the council's budget, which helps us provide essential services, it also acts as an engine that generates £189m for the local economy every year.
"This new agreement will give a major boost for the port's growth ambitions, and help them fulfil their aims they set out in their 20 year Masterplan that was published last year."
"I've been working closely with Philip and the team at Williams Shipping to ensure a smooth start to the new service" said harbour master Ben McInnes. "I can't wait to get started on this new chapter for the pilotage service here in Portsmouth."