Glasgow boat builder Ultimate Boats will unveil two new recyclable workboats at Seawork which are geared towards making the market embrace more circular technology.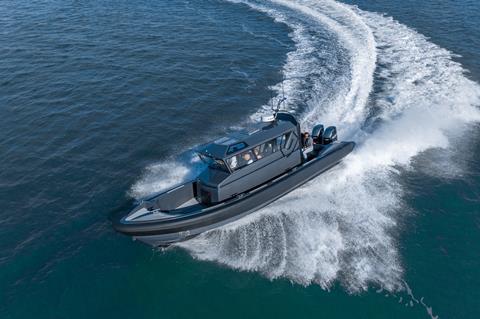 The 7.5m Coastal C-Class and 11.5m Tactical T-Class vessels are made from fully recyclable Ultimate Boats's own DANUTM composite material which can replace fibreglass, preventing thousands of boats ending up in landfill each year.
"We're very proud to bring these exceptional sustainable new vessels to Seawork after we launched the first fully recyclable workboat at Seawork last year," said Shane Mugan, owner, Ultimate Boats.
"A year on we have a full order book and are seeing much scope for growth as owners search out greener forms of boat building, particularly in the offshore wind and military and law enforcement markets."
Fibreglass replacement
Mr Mugan said that DANUTM can tackle one of the biggest challenges in boat building – replacing the use of fibreglass, which is notoriously hard to recycle.
He said that because DANUTM is a circular technology, it can be recycled into new boats and equipment repeatedly for generations.
Both new vessels are handmade and designed by Ultimate Boats internationally renowned chief designer John Moxham.
At the show, The T-Class vessel 'Lightning' will be demonstrated in strategic partnership with Hampshire Police.
Ultimate Boats currently has a full order book with increasing interest from naval and law enforcement agencies, as well as offshore operators.
The boatbuilder delivered its first commercial vessel to Police Scotland last year. That breakthrough deal represented the culmination of a £7 million investment in research and development and the vessel was subsequently named Patrol Boat of the Year at the Work Boat World Awards.
The vessel's ExoHull design allows the boat to move quicker and more efficiently in the water, creating a more stable movement with less slamming impact reducing fuel costs and emissions.
Ultimate Boats is now looking at technology to create autonomous and electric propelled versions in the future.
Visit the Ultimate Boats stand Q88 and Seawork Berths BA24 and BA25 at Seawork.