Grown out of the PhD projects of two Croatian naval architects and a marine engineer, Cloud Towing Tank aims to transform the cost and speed at which common ship design calculations are delivered.
Robert Keser (CEO), Vuko Vukčević (VP Business Development) and Inno Gatin (VP Engineering) founded the Cloud Towing Tank (CTT) with the goal of bringing the best of Computational Fluid Dynamics (CFD) to the marine industry.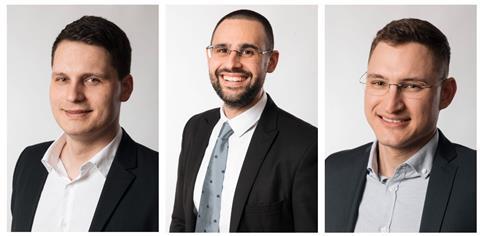 CFD is a branch of fluid mechanics that uses computer calculation to analyse and solve problems that involve fluid flows - in this case fluid flows around the underwater structure of a ship's hull.
CFD, as its algorithms have improved, has replaced, to a degree that naval architects are inclined to disagree about, more traditional means of reaching these design conclusions, such as model tow testing in (real world) towing tanks.
Consistency
CTT claims it has moved the real-world ship design application of CFD on a step-through consistent application of skills formed over years of academic and industrial work. Consistency is key, in results, quality, price and delivery time. Most important is consistency of results through time and across different projects, and to achieve it, Cloud Towing Tank uses internally developed procedures that provide clear paths to calculating specific hydrodynamic problems, minimising the possibility of a human error while at the same time ensuring the necessary dose of critical human thinking required by every project.
The cornerstone of CTT's offering to the market is its own CFD software, The Naval Hydro Pack, developed over eight years by Naval Architecture PhDs Vuko and Inno.
The company started developing numerical methods for application in the marine industry during its founders' PhD projects, with the vision of helping to solve large problems in the industry, and to make ground-breaking contributions to the field with unique and complex simulations.
Over the years, the three PhDs realised that what the industry needs most are basic CFD simulations like calm water resistance, but that these calculations need to be actioned in a standardised, industry grade process to ensure consistency and accuracy of results.
The company went on to develop a workflow that allows quick evaluation of calm water resistance and self-propulsion while minimising any room for user error.
Numerical ship hydrodynamics is the company's speciality, and being the developers of the CFD software enables the company to tailor its workflows in a way that provides standardised and quick calm water resistance and self-propulsion simulations. What this means to customers is that the company can deliver results within as little as one day.
Calm water hull resistance
According to Cloud Towing Tank, having accurate calm water resistance data early in a design project can make a difference between a successful ship design project that is on time, and one that could need heavy revisions late in the project, or even worse, under performs on sea trials.
The CTT CFD service can be used to get a first evaluation of calm water resistance, as well as to make small modifications to the hull geometry and measure impact on the overall hull design. The team often works with clients in an interactive way, where multiple iterations are needed to get to the final answer.
The team claims it typically gets back to clients within three working days with the new evaluation, making it easy for them to move forward with a project with confidence in good hydrodynamic performance.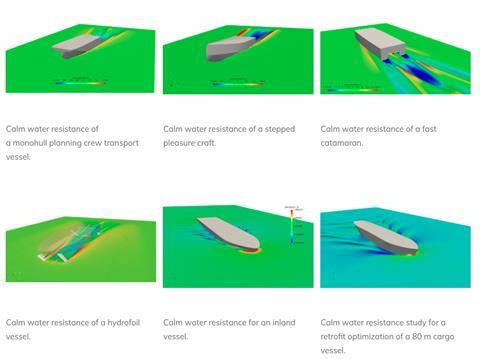 Power requirements
When designers need accurate data on ship propulsion power requirements, CTT says its CFD ship self-propulsion simulations are the closest they will get to them without running physical experiments.
The interaction between the hull and propeller/s is essential when it comes to the vessel's propulsion power requirements, and needs to be taken into account from the start. Ship propulsion CFD simulations allow having them both in a single numerical model, enabling this interaction to be correctly calculated, which is the approach used in CTT's simulations.
CTT's numerical model takes into account the two-way interaction between the propeller and the hull, where the hull changes the inflow velocity profile to the propeller, while the propeller accelerates the flow, and changes the pressure field, affecting the pressure distribution along the hull.
It's not just naval architecture in which the company is forward looking. In terms of marketing it offers a free benchmark study so that potential clients can assess the accuracy of the Cloud Towing Tank offering before working with them.
Eirik Bøckmann from fellow Seawork 2023 exhibitor Wavefoil AS is a happy Cloud Towing Tank customer: "Cloud Towing Tank are experts in their field, easy to communicate with and deliver fast results. I give them my highest recommendations," he said.