Longstanding Seawork exhibitor Viking Life Saving Equipment AS is offering a full range of evacuation and lifesaving technology for the offshore wind market at Seawork this year.
Well established in all aspects of the maritime industry, the Danish company is one of few that can offer a full range of lifesaving equipment from vertical drop lifeboats to PPE for turbine technicians.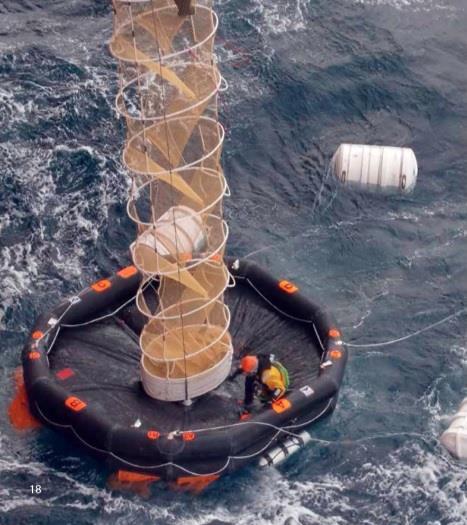 Since the first offshore windfarm (Vindeby) was built in Danish waters back in 1991, Viking has had a great deal of involvement in the development of safety systems for this sector. Initially, systems from the North Sea oil and gas industry were adapted to fit the new demands of marine renewable energy, but just as crew transfer was conducted at the start by fishing boats, which rapidly evolved into purpose built offshore wind CTVs, soon industry specific safety equipment, systems and best practices began to more closely reflect the requirements of the industry.
Evacuation systems
One area of development has been Viking's evacuation systems, particularly for offshore wind substations, which are becoming more numerous as windfarm energy export systems have evolved.
As with all other equipment on an offshore installation, the design of the systems must take a wide range of factors into account: platform type, installation location, height, special weather conditions as well as the flow of crew in an emergency situation.
Viking's professional offshore evacuation experts are experienced in helping customers integrate an effective evacuation system for any platform.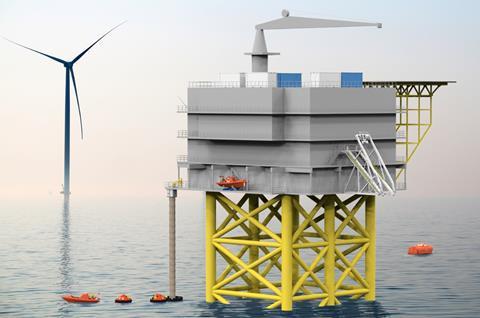 Designed specifically to increase personal safety, chute-based evacuation systems ensure protection from the elements and a quick, safe and easy descent to sea level. Viking claims that its SES range is a perfect fit for most substations and has been selected by more offshore wind operators than any other evacuation system design.
This compact evacuation system operates on heights of up to 30m and is appropriate for the reduced spaces available on fixed installations. A ramp is installed within the system container, including a fire-retardant chute and integrated liferaft platform.
Once deployed, the SES systems allow sequential evacuation of unlimited transfer capacity, as the chute transfers casualties to a floating platform at a very consistent rate due to the chute's internal baffles. The boarding platform holds 25 persons, but this evacuation capacity can be expanded with additional throw-overboard liferafts.
An ability to evacuate the maximum number of people in the minimum amount of time is the key performance indicator for offshore evacuation systems.
High-capacity life-saving equipment must be easy to handle while requiring minimum involvement from crew.
After years of supplying related evacuation systems to FPSOs jack-ups and semi subs, the company has built a knowledge base that has carried over into the growing offshore wind market. All evacuation systems are custom designed to be the optimal solution for the infrastructure design, but there are consistent features common to all.
System architecture
The container is the structural interface to the platform deck. It protects the evacuation chute against all types of weather – and for some systems, even against explosions.
The container consists of a load bearing, welded frame, which is bolted to a foundation integrated into the deck structure.
It can be either in-deck mounted or cantilevered out from the deck edge.
The fire retardant Kevlar evacuation chute provides a simple, safe and fast method of transferring evacuees from deck levels down to sea level.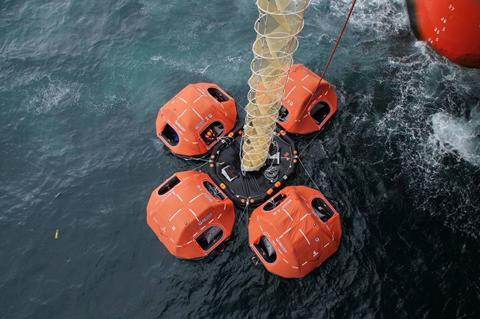 It is divided into cells with speed-retarding slides running at opposite angles in a zigzag effect. Openings on each cell behind the slides provide easy entry and exit at any point on the chute. The design of the chute enables evacuees to wear lifejackets, immersion suits, and emergency escape breathing devices.
The boarding platform inflates automatically and acts as the sea reference point, where evacuees can await dry-shod transfer to system liferafts or fast rescue crafts.
On one of Viking's systems, the platform can even be used as an ordinary liferaft, simply by cutting the chute guidance ropes.
Deployment options differ per case, but most Viking evacuation systems are deployed by opening a locking system and releasing the brake of a gravity-driven winch. The simplest system is based on a free-fall chute deployed with a knife or pneumatic cutter.
All Viking's systems use a stabilising weight, which deploys approximately 15 metres below the sea surface. This takes it below the effects of the wave zone, keeping the chute taut and reducing sideways motion caused by wind and sea currents. Viking has more than 500 evacuation systems installed worldwide.