New Zealand RIB maker Rayglass Boats will be making its debut at Seawork this year with a range of boats it aims to launch on the commercial marine market through distributor PB Europe.
Protector RIBs are available in a range of sizes and power, and visitors to Speed, which precedes the main Seawork event on June 12 on the Isle of Wight, will get the chance to try out a 11.5m Targa 380 with twin Mercury Verado engines.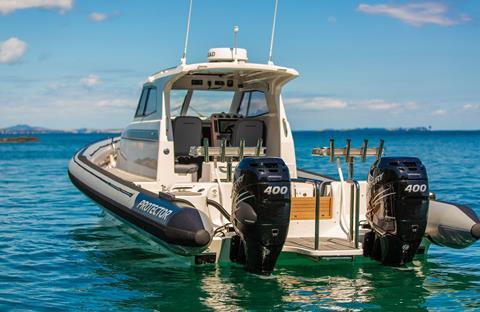 Provisionally aimed at the leisure market and finding their place as support boats in the Olympics, Americas Cup and Sail GP events, Protector RIBs are now being launched on the European commercial market via Seawork.
"This will be our first step into commercial marine in Europe, the first event of the year," says Andy Andrews, brand manager of Protector RIBs with the agent Ancasta Group. "We are bringing the Targa 380 to target coastguards, border force, the MOD – it's a cabin RIB and Seawork will be our first input."
The RIBs can do speeds of more than 50 knots in all sea states, he says, thanks to a special hull design.
"At that speed there is still no danger of the onboard equipment being smashed around or falling off its mount," he says. "It's an amazing seakeeping boat."
It's a result of 30 years' R&D by the company in New Zealand, where the boats are built and where a new factory is to be opened by Christmas – a sign of faith in the future – and Andrews does not rule out a factory in Europe down the line.
"It's the go-to police and harbour master boat in New Zealand," he says, "it's practically bullet proof.
"Stability comes from its hull design and high speeds are achievable in high seas as well – the larger boats have twin Mercury Verado 600hp engines, which have to be static – they are seven feet tall and 600kg each – so only the pod moves to avoid having all that weight moving around and destabilising it. And because of that you are not using excess energy either."
The Protector RIB will be on the pontoon at Southampton at PB Europe, VA 37.