Fleet management solutions provider MirTac has implemented its Star Fleet Management software onboard two new vessels operated by Netherlands-headquartered SeaZip.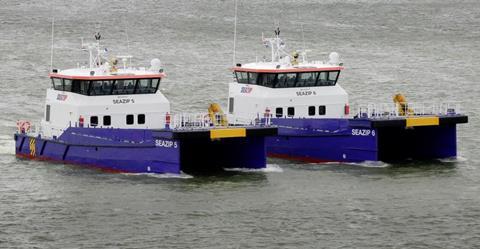 SeaZip Offshore Services only took delivery of SeaZip 5 and 6 last month, expanding its fleet to six Damen Fast Crew Suppliers (2610). The vessels will be primarily deployed in the building, operation and maintenance of windfarms at sea.
The Star software already runs in the office and onboard the other SeaZip vessels and supports its staff with maintenance, quality, health, environmental and safety management. The seamless integration of the vessels with the office also allows for efficient spare parts management, purchase processes, crew management and compliance with governmental and customer regulations.
Barend Tooten, Managing Director MirTac said: 'It is a great pleasure to support SeaZip in its innovative operations. We congratulate Jan Reier Arends and his staff with yet another exciting addition to his growing fleet.'
Jan Reier Arends, Owner/Managing Director SeaZip added: 'We have always been able to count on MirTac's knowledge and support. MirTac has been a business partner for years, already since the Star implementation onboard the JR Shipping fleet. We are looking forward to continuing this strong relationship.'
The FCS vessels are designated for the transport of passengers and small quantities of freight. They are built according to the Damen-patented so-called Twin Axe Bow design, which ensures very stable seagoing conditions. The vessels are over 25 metres long and can transport 12 passengers. In light of their stability and high level of safety, they are eminently suited to providing 24/7 services on the open sea. This is a significant competitive advantage, given the fact that wind farms tend to be built at ever greater distances from the coast and continuity of scheduled operations must be guaranteed in all circumstances.
The two new SeaZip vessels exhibit a number of adaptations such as an increased draught -allowing an increased loading capacity of 25%- and improved bow fenders.
MirTac describes itself as a no-nonsense consultancy firm with a vast background in the maritime industry. MirTac is a leading provider and co-developer of the practical and proven maintenance and fleet management solution Star IPS to all kinds of shipping companies and related industries such as dredgers, tankers, oil & gas companies, offshore subcontractors. The software is used onboard ship yards, vessels, maritime offices and rigs worldwide, linking them seamlessly. Functionality includes: maintenance, quality assurance, safety & environmental processes, spare parts management & purchasing, crew planning, certificates, cash transactions.
By Jake Frith