During March, the Offshore Renewable Energy Catapult (OREC) released its second Cost Reduction Monitoring Framework Report (CRMF). Among other things, the report finds that ''the industry is confident of driving costs below £100/MWh by 2020 on the back of long-term market certainty.''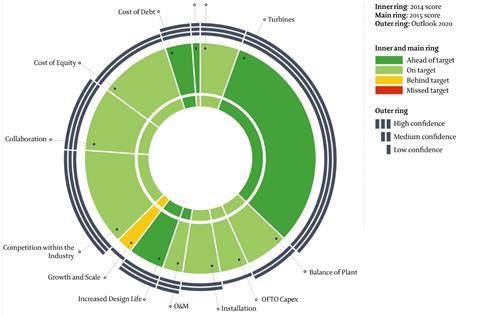 The second CMRF was delivered by the Catapult on behalf of the Offshore Wind Programme Board, the CRMF provides a systematic method to assess the progress of the industry's cost reduction journey against key milestones. The fact that the report is now in its second year means it is possible to carry out year on year comparisons for each indicator. According to OREC, this year on year expansion of the available data, coupled with the strengthening of the outlook assessment, provides the sector and policy makers with a 'firm basis for informed decisions.'
The qualitative assessment set out comprehensively in the CRMF 2015 report is based on a series of questionnaires, interviews and workshops with senior staff from 46 organisations active in the offshore wind industry between August and October 2015. The evidence gathered throughout this part of the process was also complemented by contributions from sector specialists, before being reviewed with industry working groups.
Reduced cost of operations
The process culminated in a series of key findings - including the conclusion that offshore wind costs are 'falling fast' with twelve out of a total of thirteen cost indicators now 'on or ahead of target.' OREC also reports that the industry is 'confident' of reducing the cost of operations to levels below £100/MWh by 2020 'on the back of long-term market certainty.' The CRMF also reports that ongoing investments in turbine technology have resulted in 'significant' cost benefits - but admits that 'further reduction' must be achieved via progress and innovation in so called 'balance of plant' areas, including 'foundations, cables and substations.'
In another development, the report's authors also stress that vital investment in research and development - as well as the 'manufacturing industrialisation' required to deliver such improvements - is only likely to be secured with 'improved visibility' relating to future rates of deployment and market size as 'Government sets out details of contracts for new offshore wind farms.'
Commenting on the findings of the second report, Andrew Jamieson, CEO of the Offshore Renewable Energy Catapult, believes that what he calls 'the UK's world leading offshore wind industry' can be 'proud that it is meeting its commitment to deliver more affordable, low carbon energy.'
"This report sets out a clear pathway to further cost reduction through technology innovation and collaboration to ensure that Britain continues to reap both economic and environmental benefits," he adds.
By Andrew Williams