A UK fleet operator has invested in a multi-role catamaran which will be deployed in a variety of roles in the marine civil engineering, offshore renewables and oil & gas sectors.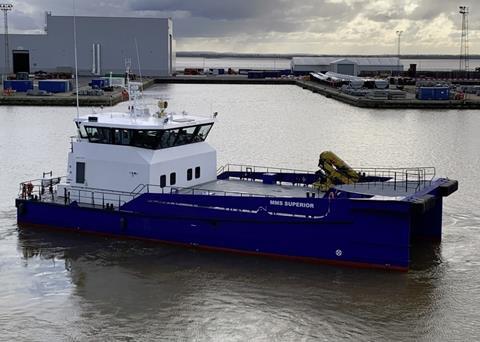 Standardisation of the fleet was an important factor in deciding to purchase a second Damen FCS 2610, says MMS Offshore marine manager Nick Brambles. "One of the appealing factors of choosing another Damen vessel to add to our fleet was the standardisation of the vessel type and its equipment. Additionally, we see the FCS 2610 design's versatility as a clear advantage."
In addition to its fleet of vessels, MMS Offshore also operates its own shipyard facility. It was here that the company constructed another high speed catamaran of similar size to the FCS 2610. "All three of these vessels operate with the same engines, generators and/or similar machinery."
MMS Offshore has a new shore-based operational support base in nearby Grimsby, where the new vessel will be based. "We look forward to seeing what the future holds for the port of Grimsby as the offshore renewable industry continues to grow, bringing employment, education and life back into a port that has suffered since the decline of the fishing industry," Mr Brambles added.
By Jake Frith