The Dutch software developer is using this week's London Shipping Week to launch its port and harbour surveillance system internationally, CEO Jasper Wognum told Maritime Journal.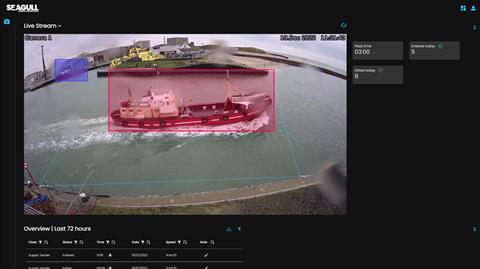 Having been rolled out in ports and harbours of various sizes in his native Netherlands, the system is now ready to go to the international market.
'Seagull' uses footage from cameras strategically placed at areas of the port or harbour to identify anything untoward and send alerts to the relevant parties.
The system identifies and records exactly which vessels come in and out of the port, the speeds at which they are travelling and what they are doing – and if it doesn't seem normal, it will react.
"For instance, a fishing boat leaving the coast at four in the morning is perfectly normal," says Wognum.
"But a RIB coming in with high speeds in the middle of the night is suspicious, so we want to send an alert to whoever it concerns, whether it's the harbour master, coast guard, customs or police.
"For instance, last week we discovered that drugs, or other contraband stuff, is being hidden underneath ships without the ship owner even being aware. Then people rock up with an underwater jetski to pick up whatever it is and take it back to shore.
"In a control room you will see this on an extra screen, or it can be integrated with the system they already have – so instead of looking at all different camera footage all the time, you are told to look at a specific one because something seems to be going on."
Wognum says the increasing amount of crime – mainly smuggling contraband – was difficult to monitor by personnel alone, especially now that some crime has shifted to the smaller ports, making it even more difficult to spot.
"In the Netherlands, for instance, it used to be the case that Rotterdam was the main target, but that has increased security now and you see criminals going to other ports – not just commercial ports but leisure marinas as well," he says.
"The government is trying to enforce keeping a register of day and night traffic at these very small harbours, but they don't have the staff and it's very expensive to hire someone to monitor all this activity."