SENSEWind has completed a demonstration of its SENSE Up-Tower system that eliminates the need for cranes and conventional offshore installation vessels when mounting WTG nacelles and blades.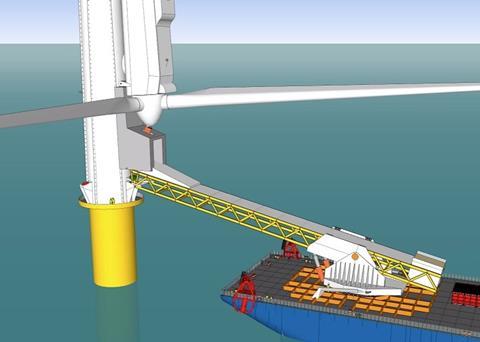 This self-erecting nacelle and service system, which is suitable for use with both onshore and offshore wind turbines and floating wind turbines, is a significant departure from how wind turbines are usually installed. SENSEWind and its industry partners believe it can make turbine installation cheaper, quicker and safer. Independent analysis has shown the SENSEWind system could reduce the levelised cost of energy of a project by as much as 12%.
"By automating the heavy-lifting and positioning at height, it also improves safety, while reducing technical and programme risks," said a SENSEWind spokesperson. "The system has the added benefit that it can be used in reverse to allow the blades and machinery to be lowered for repair or replacement. Inspections, repair and maintenance of blades and towers are also quicker and easier."
SENSEWind has successfully demonstrated the SENSE system in action, installing a modified Vestas V27 rotor nacelle assembly on a 26-m high tower at its test site in Northern Ireland. The combined nacelle and blades are mounted upside down on a carriage that can climb up the side of the turbine tower using special tracks. Once at the top a hydraulic ram angles the nacelle into its correct position ready for bolting in place. The company has also developed a system involving a ramp that can allow the nacelle and blades to be transferred from a ship onto the side of a turbine tower.
SENSEWind chief executive Patrick Geraets said, "The team is extremely pleased with how well the demonstrator performed. We can now finally show the wind industry that SENSE works and has the potential to solve many of the installation and service problems for very large turbines, both on and offshore. The tests have also provided us with valuable information as we work to upscale the SENSE system for the growing market." The SENSEWind team is now discussing the roll-out of an operational system with several partners, investors and clients.
By Dag Pike