Outsourcing company Serco and maritime services provider Briggs Marine are teaming up to bid for the Royal Navy's next generation of marine services.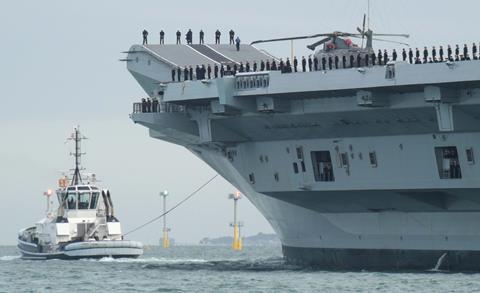 The Royal Navy's Marine Services 2022 initiative involves renewing commercial delivery of services across the fleet when current contracts expire in 2022 and 2023. Requirements cover a range of service provisions currently involving 125 vessels completing an average of 16,000 tasks a year at Royal Navy bases along with other activities on a world-wide basis
Serco took over activities including towage provision from the Royal Maritime Auxiliary Service in 1996, the arrangement was enhanced in 2007 with inclusion of the complete range of services including specialist training and harbour master support.
Associated companies including SD Marine Services have over 160 group-owned and operated vessels including, as one notable example, the ART 80-32 Rotortug SD Tempest. Delivered in 2017 this impressive Damen Gdansk-built vessel was extensively modified to a high standard to handle military vessels including the two Queen Elizabeth-class aircraft carriers.
Briggs Marine has worked with Serco since 2007 in a relationship described as "highly successful" and has delivered "outstanding performance with 99.9% of all tasks delivered to the Royal Navy's exacting requirement."
Briggs Marine Services own or operate around 30 vessels including workboats and tugs and balancing the Serco comparison another notable Damen product is Kingdom of Fife an AHTS 6114 anchor-handling tug offering 60tbp, duties including servicing RN moorings and navigational aids.
Collieson Briggs, managing director, Briggs Marine said: "This is a very significant step which continues to build Briggs' already strong relationship with Serco. The capabilities of our companies are testament to the years of experience of our respective teams. Together, we will offer the Royal Navy and the Ministry of Defence a strong potential supplier for this extremely important work."
For Serco, Kevin Craven CE UK and Europe added: "… We have kept our promises to the Royal Navy and UK taxpayer throughout the Provision of Marine Services contract, despite its challenging financial performance. I am immensely proud of the outstanding service we have delivered to the Royal Navy since 1996. Our partnership with Briggs offers a unique combination of skills and experience to meet the high standards of the Royal Navy and deliver value for the taxpayer.
By Peter Barker