Irish boat builder Safehaven Marine is noted for the severe testing methods it uses to ensure that its boats are fit for purpose reports Dag Pike.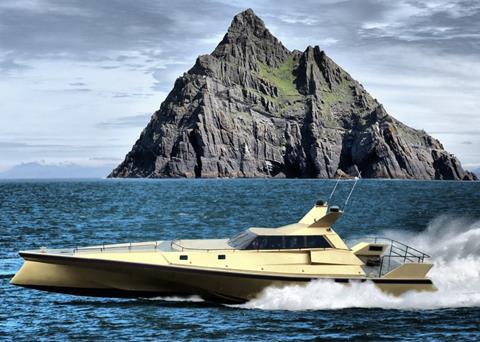 Prototypes are taken out into the entrance to Cork Harbour during storm conditions and put through their paces. "Only by this severe testing can I be comfortable that the crews manning our boats will be as safe as possible when they put to sea in rough conditions", commented Frank Kowalski, the MD of Safehaven.
Now with a new 75 footer under construction Kowalski has devised a new method of severe testing for his new design, a 4500 km voyage across the Atlantic at high speed. The plan is to take the boat from Ireland to Newfoundland via Iceland and Greenland at modest cruising speeds on the way out and then turn round and run at high speed on the way home to set a new record time for this northern crossing on the Atlantic, following in the footsteps of Irish Priest St.Brendan in the 8th century and the Vikings 2 centuries later.
The 75 footer, called Thunder Child II, has a unique hull design developed after extensive tank testing and towing trials. The fine, wave-piercing bow section runs to amidships where it then expands into a catamaran hull for the run aft. The aim is to have fine hull shapes that will prove sea-kindly in rough conditions and allow high speeds in adverse conditions.
To power this 75 footer on its Atlantic journey Safehaven will install four Caterpillar diesels each one producing 650hp. These will be coupled via ZF gearboxes to surface drives by France Helice. This should give the boat a top speed of 53 knots and a cruising speed of 40 knots. At this cruising speed Thunder Child II will have a range of 750 miles from the 7000 litre fuel tanks, enough to cover the distance between the three refuelling stops on the Atlantic voyage.
The chosen Atlantic route is challenging with extensive fog banks and icebergs to negotiate as well as normal North Atlantic weather. The boat will be the largest ever built by Safehaven and will be the prototype for a new generation of fast patrol boats and service craft.