Submarines for private use will be available with their own support craft under plans revealed by ShadowCat and Triton.
Dubai-based Shadowcat has unveiled a partnership with Triton Submarines that will build a Launch and Recovery Craft (LARC) that can carry a Triton 3300/3 MK!! submersible capable of diving to 1,000 metres for up to 12 hours.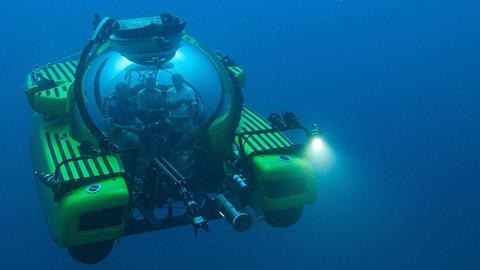 Designed by naval architects Incat Crowther, the concept means three people can be seated on the Triton, which has been priced at less than $10 million and would take 14 months to deliver, ShadowCat says, 'using any of ShadowCat's qualified builders in the US, Europe or the Middle East'.
ShadowCat says its product can address the logistical challenges associated with launching, recovering and supporting a submersible weighing up to 12,000kg, such as stability.
it can operate independently, support existing fleets, and operate multi functions for marine institutes and underwater research projects.
"Our goal is to make it possible for more people to own, operate and enjoy exploring the ocean from the comfort and safety of a Triton submersible," said Triton Submarines president and co-founder Partick Lahey. "Clients can now enjoy the simplicity, elegance, excitement and safety of exploring the ocean in a submersible supported by a craft that can be operated affordably but with absolutely no compromises in terms of its capacity to do the job it was built for."