A shallow draft survey vessel has been launched that can operate in waters of 1.5m to provide wide versatility.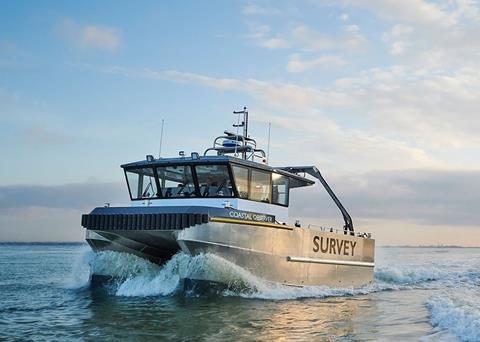 Chartwell Marine's Scanwell shallow draft survey vessel is available in 10m, 12m, 15m and 19m hull sizes, enabling use in a wide variety of applications such as offshore energy, port infrastructure and scientific expeditions. A 10m survey vessel and a 19m teaching vessel have already been ordered with the first delivery made.
Andy Page, managing director at Chartwell Marine, said: "Traditionally, shallow draft survey vessels have been small, but we know that in rougher seas such as the UK's, this has caused problems for operators. The offshore wind industry especially is a key asset for the UK, and as its associated infrastructure continues to grow, the need for versatile survey vessels grows with it."
Port maintenance use
Vessels with shallow draught capabilities are critical for port maintenance and expansion. Most channels in ports are dredged to a depth of 5m or 6m – but must be surveyed before initial dredging and for maintenance. When sediment and particle deposition fill these port channels, operating depths are severely reduced.
More widely, shallow draft vessels are especially vital for cable transfers to beaches and UXO surveys.
The larger sizes of the vessel facilitate use further out to sea. In the offshore energy sector, wind farms need surveying throughout their entire lifecycles, from the initial preparations to lay cables, maintenance checks on sub-sea infrastructure and final decommissioning.
Additionally, a hybrid version of the vessel has been used as a teaching/education vessel.
By Rebecca Jeffrey