Shoreham Port is bringing the autumn shingle transfer forward a few weeks so that beach levels can be raised before the weather worsens.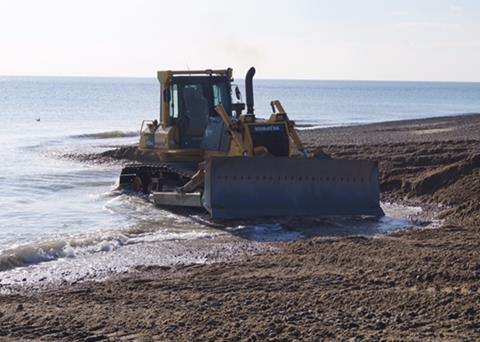 It normally takes place in spring and autumn, but due to the extremely low levels of the beach to the east, the area is already suffering from damage and Shoreham Port needed to act early.
The shingle transfer began on 6 September and is expected to last for five weeks.
Tony Parker, director of engineering at Shoreham Port said: "Waves are particularly energetic, as we all know locally, and one of the effects of large waves is to reduce the level of the shingle at the top of our beaches."
"Shingle levels on the beaches tend to recover to some extent during calmer weather but, as the waves mostly come from the south west, the shingle usually comes back in further to the east of the spot it disappeared from."
While the shingle that makes up the beaches along the UK south coast around Shoreham is a highly efficient absorber of wave energy, it is also susceptible to littoral drift.
With the general direction of the waves being from the south west, over time the shingle stacks up against the western harbour arm at Shoreham.
This means in order to keep the shoreline in the same place, avoid disruption, while keeping buildings and roads safe the movement of shingles needs to take place from areas where there is too much, to areas where it is needed.
By Alice Mason