The introduction of its first emission-free, all-electric commuter ferry has greatly improved the public transport situation in the German Baltic port city of Rostock.
The new 19.9m long and 6.6m wide catamaran Warnowstromer carries 80 passengers and 15 bicycles. It has just gone into regular service across the Warnow River and officials said it will boost transport potential in the city of Rostock by some 500 passengers a day.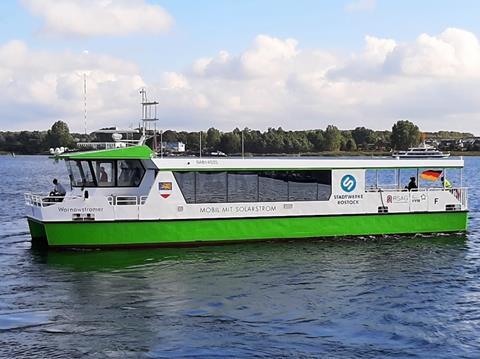 The newbuild cost €1.7 million while investment in modernising mooring/charging points has upped that to €2.2 million. It is now in city service just upstream from the seaport of Rostock, east Germany's biggest Baltic shipping hub handled nearly 21 million tons of cargo in 2020.
The new ferry is part of the city's public transport concern Rostocker Strassenbahn (RSAG) which has dovetailed the boat's movements into its existing local bus and tram timetables. The cat's regular river operations however across its half kilometer Warnow route between Kabutzenhof and Gehlsdorf – are in the hands of local shipping concern Reederei Antaris.
Warnowstromer is steel-hulled and was built in nearby Stralsund by ship and steel construction yard Ostseestaal and designed by Ostseestaal associate Ampereship. It is the 12th such electric-solar ship built by the two firms.
It is driven by two fully-redundant RP-AS, 45kW, 3600 rotating rudder propellers.They draw their power from high voltage Lithium batteries of 230kWh capacity and from 36 solar panels of total 10.8kWp mounted on the catamaran's roof. Service speed required for normal timetable operation is listed as 7-8 kms/h but maximum14 kms/h is reported available if needed.
A Rostock city spokesman told Maritime Journal earlier this year that the rudder propellers, solar panels and batteries in Warnowstromer had all been developed by Amereship. Officials added that on sunny days, up to half the required energy could be solar and that up to 36,000 litres of Diesel and 95 tons of CO2 a year would be saved.
Although no plans have been reported so far for further electric ferries in Rostock, Warnowstromer has come in for much praise.
RSAG head Yvette Hartmann was quoted as saying "emission-free and climate friendly: Rostock is now on the right tyrack". Rostock Finance Senator Chris Müller-vonWryck Rwekowski described its arrival as "a quantum leap forward".